Streaked Flycatcher
The Streaked Flycatcher is 22 cm long, weighs 43g and has a strong black bill. The head is brown with a concealed yellow crown patch, white supercilium and dusky eye mask. The upperparts are brown with darker brown streaks on the back, rufous and white edges on the wings, and wide chestnut edges on the rump and tail. The underparts are yellowish-white streaked with brown.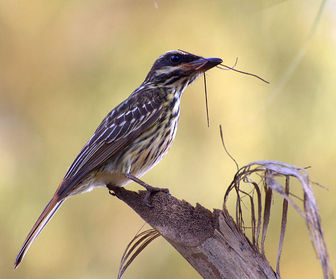 Picture of the Streaked Flycatcher has been licensed under a Creative Commons
Attribution-Share Alike
.
Original source
: originally posted to Flickr as BEM-TE-VI-RAJADO ( Myiodynastes maculatus)
Author
: Dario SanchesPermission(Reusing this file)This image, which was originally posted to Flickr.com, was uploaded to Commons using Flickr upload bot on 23:39, 26 October 2008 (UTC) by Ltshears (talk). On that date it was licensed under the license below. This file is licensed under the Creative Commons Attribution-Share Alike 2.0 Generic license.You are free:to share – to copy, distribute and transmit the work
The Streaked Flycatcher is classified as Least Concern. Does not qualify for a more at risk category. Widespread and abundant taxa are included in this category.

The Streaked Flycatcher, Myiodynastes maculatus, is a passerine bird in the tyrant flycatcher family. It breeds from eastern Mexico, Trinidad and Tobago south to Bolivia and Argentina. The southern subspecies M. m. solitarius migrates to Venezuela and the Guianas from March to September during the austral winter. The Streaked Flycatcher is 22 cm long, weighs 43g and has a strong black bill. The head is brown with a concealed yellow crown patch, white supercilium and dusky eye mask. More
The Streaked Flycatcher, Myiodynastes maculatus, is a passerine bird in the tyrant flycatcher family. Distribution / Habitat: It breeds from Mexico, Trinidad and Tobago south to Bolivia and Argentina. The southern form M. m. solitarius migrates to Venezuela and the Guianas fromMarch to September. This species is found at the edges of forests and cocoa plantations. More
The Streaked Flycatcher is a widespread inhabitant of evergreen and open second growth forest from southeastern Mexico to south to Argentina. As its name implies, the Streaked Flycatcher has streaking across most of its back and underparts, along with a cinnamon tail and crown. The Streaked Flycatcher can be differentiated from the similar Sulphur-bellied Flycatcher (Myiodynastes luteiventris) by its heavier bill and paler yellow underparts. More
Streaked Flycatchers catches a lizard it perches on a branch with the lizard in its bill and batters the lizard against the branch. When the lizard has been killed or at least sufficiently numbed, it swallows the lizard head first. It can be a noisy species, singing at dawn and dusk. The common callnote of the Streaked Flycatcher is a wiry, nasal tsu-ka More
Streaked Flycatcher determination Similar species Tyrannidae Amazonian Royal Flycatcher | Bearded Tachuri | Black-capped Becard | Black-chested Tyrant | Black-crowned Tityra | Black-tailed Tityra | Boat-billed Flycatcher | Boat-billed Tody-Tyrant | Bran-coloured Flycatcher | Brown-crested Flycatcher | Cinereous Becard | Cinereous Mourner | Cinnamon Attila | Cinnamon-crested Spadebill | Cliff Flycatcher | Common Tody-Flycatcher | Double-banded Pygmy-tyrant | Drab Water-Tyrant More
Another Grey Streaked Flycatcher near my flat yesterday, and slightly better pics than last time too. More stuff flitting around the bushes, god only knows what half of that stuff is. There were some more Asian Brown but no Sooty Flycatchers. The first Teal since May were about as were several Stonechat and the obligatory skulking Night Heron. More
Streaked Flycatcher 2 (Myiodynastes maculatus)Streaked Flycatcher 2 (Myiodynastes maculatus)This bird has a heavy bill and rufous in the tail as compared to the Piratic Flycatcher (L... Uploaded May 1, 2006 / 0 comments / Flickr URL Streaked Flycatcher 2 uncroppedStreaked Flycatcher 2 uncroppedHere is the original photo of Streaked Flycatcher 2 just to show how much that photo was c... More
streaked flycatcher Myiodynastes maculatus), is streaked both above and below. Plumage includes olive-green upperparts with heavy streaking, pale yellow belly with dark brown streaking, reddish rump and tail, whitish secondaries and wing coverts, a blackish malar mark, and white stripes on face above and below dark eye patch. Bill is thick and black. Yellow patch in center of crown is visible only when crown is erect, during passion or aggression while courting. More
The easiest way to describe the Streaked Flycatcher is like a streaky-brown Kiskadee! Beware of confusion with the smaller, slimmer Variegated Flycatcher which has the same basic pattern though! He More
Streaked Flycatcher (Myiodynastes maculatus) which has a white chin, paler belly and usually yellower supercilium. Note that the claimed paler bill of Streaked Flycatcher discussed and illustrated in "A Guide to the Bird of Mexico & Northern Central America" by Howell and Webb is not a reliable distinction. More