Golden-crowned Flycatcher
It is found in Argentina, Bolivia, Colombia, Ecuador, Mexico, Panama, Peru, and Venezuela. Its natural habitats are subtropical or tropical moist montane forests and heavily degraded former forest.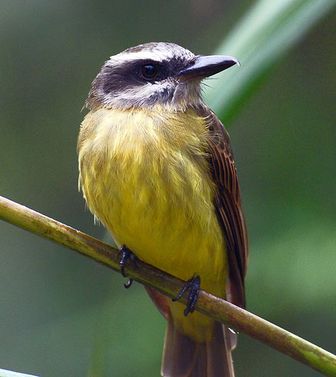 Picture of the Golden-crowned Flycatcher has been licensed under a Creative Commons
Attribution
.
Original source
: Golden Crowned Flycatcher (Myiodynastes chrysocephalus) (cropped and enhanced)
Author
: The Lilac Breasted Roller from Sullivan's Island, United StatesPermission(Reusing this file)See license
The Golden-crowned Flycatcher is classified as Least Concern. Does not qualify for a more at risk category. Widespread and abundant taxa are included in this category.

The Golden-crowned Flycatcher (Myiodynastes chrysocephalus) is a species of bird in the Tyrannidae family. It is found in Argentina, Bolivia, Colombia, Ecuador, Mexico, Panama, Peru, and Venezuela. Its natural habitats are subtropical or tropical moist montane forests and heavily degraded former forest. References - * BirdLife International 2004. Myiodynastes chrysocephalus. 2006 IUCN Red List of Threatened Species. Downloaded on 26 July 2007. More
A Golden-crowned Flycatcher (Myiodynastes chrysocephalus) perched on a branch in the Tandayapa Valley of Ecuador..................................................................... Ecuador.................................................................... Glenn Bartley.................................................................... Glenn Bartley.................................................................... Golden-crowned Flycatcher (Myiodynastes chrysocephalus).................................................................... Tandayapa Bird Lodge.................................................................... Tandayapa Valley.................................................................... animal.................................................................... animals.................................................................... animals in the wild.................................................................... avian.................................................................... beauty in nature.................................................................... bird.................................................................... birds.................................................................... color image.................................................................... More
Reminds me of Golden-crowned Flycatchers I've seen in Venezuela, but I have no idea whether that species even occurs in Ecuador. So, just an idea. * Martin Reid: An interesting bird. More
the restaurant, we saw a singing golden-crowned flycatcher looking at us, 2 slate-throated whitestarts, a black phoebe, a silver-beaked tanager and a white-throated tyrannulet. They were all in the same tree and they moved a lot. They almost gave us a headache with their movements. Around the pool, we found again a rich activity. Five blue-gray tanagers were sharing our banana baits with two saffron-crowned tanagers, a silver-beaked tanager, a plumbeous-crowned tyrannulet, a citrine warbler and a southern-house wren. More
This Golden-crowned Flycatcher was photographed at the ProAves El Dorado Reserve, Sierra Nevada de Santa Marta, Department Magdalena, Colombia. Photo taken with a AF-S VR Nikkor 300mm f/2.8G IF-ED lens + Nikkor TC14E II 1.4x Teleconverter (EFL=630mm) on a Nikon D300 camera. More