Apical Flycatcher
It is endemic to Colombia. Its natural habitats are subtropical or tropical dry forests, subtropical or tropical moist lowland forests, and heavily degraded former forest.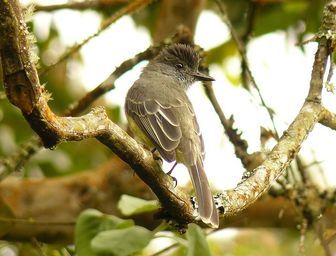 Picture of the Apical Flycatcher has been licensed under a Creative Commons
Attribution
.
Original source
: Mateo.gable
Author
: Mateo.gable
The Apical Flycatcher is classified as Least Concern. Does not qualify for a more at risk category. Widespread and abundant taxa are included in this category.

Apical Flycatcher - Myiarchus apicalis Nutting's Flycatcher - Myiarchus nuttingi Apical Flycatcher Myiarchus apicalis Payand More
The Apical Flycatcher (Myiarchus apicalis) is a species of bird in the Tyrannidae family. It is endemic to Colombia. Its natural habitats are subtropical or tropical dry forests, subtropical or tropical moist lowland forests, and heavily degraded former forest. References - * BirdLife International 2004. Myiarchus apicalis. 2006 IUCN Red List of Threatened Species. Downloaded on 26 July 2007. More
The Apical Flycatcher (Myiarchus apicalis) is a species of bird in the Tyrannidae family. Apical consonant * Apical consonant - * An apical consonant is a phone (speech sound) produced by obstructing the air passage with the apex of the tongue (i.e. More
* Apical Flycatcher, Myiarchus apicalis * Ash-throated Flycatcher, Myiarchus cinerascens * Nutting's Flycatcher, Myiarchus nuttingi * Great Crested Flycatcher, Myiarchus crinitus * Brown-crested Flycatcher, Myiarchus tyrannulus * Grenada Flycatcher, Myiarchus nugator * Galapagos Flycatcher, Myiarchus magnirostris More
Apical Flycatcher The Apical Flycatcher (Myiarchus apicalis) is a species of bird in the Tyrannidae family. It is endemic to Colombia. Its natural habitats are subtropical or tropical dry forests, subtropical or tropical moist lowland forests, and heavily degraded former forest. See more at Wikipedia.org... More
Apical Flycatcher(endemic),, Mountain Elaenia, Slate-headed Tody-tyrant, Whiskered Wren, Yellow-throated Brush Finch, Black-winged Saltator, Rufous-naped and Scrub Greenlets, Rufous-capped Warbler, Oleaginous Hemispingus, Scrub Tanager, Streak-capped Treehunter, Bar-crested Antshrike, (endemic), Immaculate Antbird. Andean Emerald; Bronzy Inca; Squirrel Cuckoo; Moustached Puffbird; Andean (Emerald) Toucanet; Azara's Spinetail, Montane Foliagegleaner; Bar-crested Antshrike; Golden-winged Manakin; Golden-faced Tyrannulet; Dusky-capped Flycatcher; Mountain Elaenia; Whiskered Wren; Blackburnian Warbler; Canada Warbler, American Redstart (all common winter migrants from North America). More
Apical Flycatcher Myiarchus apicalis IUCN Red List history Year Category 2009 Least Concern 2008 Least Concern 2004 Least Concern 2000 Lower Risk/Least Concern 1994 Lower Risk/Least Concern 1988 Lower Risk/Least Concern Range Estimate More