Variegated flycatcher
The Variegated Flycatcher is a species of bird in the Tyrannidae family. With the Crowned Slaty Flycatcher being moved to its own genus, this is now the only species remaining in Empidonomus.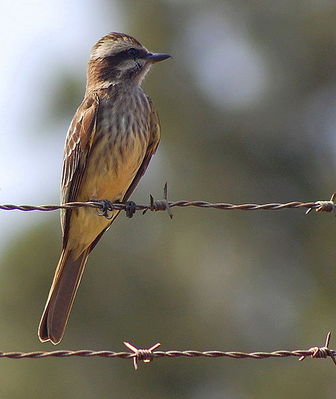 Picture of the Variegated flycatcher has been licensed under a Creative Commons
Attribution-Share Alike
.
Original source
: PEITICA (Empidonomus varius)
Author
: Dario Sanches from SÃO PAULO, BRASIL
The Variegated flycatcher is classified as Least Concern. Does not qualify for a more at risk category. Widespread and abundant taxa are included in this category.

The Variegated Flycatcher (Empidonomus varius) is a species of bird in the Tyrannidae family. With the Crowned Slaty Flycatcher being moved to its own genus, this is now the only species remaining in Empidonomus. It is found in Argentina, Bolivia, Brazil, Colombia, Ecuador, French Guiana, Guyana, Paraguay, Peru, Suriname, Trinidad and Tobago, Uruguay, and Venezuela. Its natural habitats are subtropical or tropical dry forests, subtropical or tropical moist lowland forests, and heavily degraded former forest. More
The Variegated Flycatcher has a large range, estimated globally at 10,000,000 square kilometers. Native to the Americas, this bird prefers subtropical or tropical forest or dry savanna ecosystems. The global population of this bird is not precisely known but does not show signs of decline that would necessitate inclusion on the IUCN Red List. For this reason, the current evaluation status of the Variegated Flycatcher is Least Concern. More
Variegated Flycatcher: Accidental in North America; recorded in Maine, Tennessee, and Florida (Florida record remains questionable). Uncommon to common in South America. More
This Variegated Flycatcher is just one example of over 900 WhatBird.com illustrations available for licensing. All illustrations are hand drawn and provided in Photoshop 300 dpi, layered, 2400 x 3000 pixels, 24 bit color format. See below for available formats for this product. For custom or non standard uses of our of our illustrations go to this link and fill out the form at this link: http://www.whatbird.com/illustrationlicensing/ A representative will contact you within 48 hours. More
Variegated Flycatcher determination Similar species Tyrannidae Amazonian Royal Flycatcher | Bearded Tachuri | Black-capped Becard | Black-chested Tyrant | Black-crowned Tityra | Black-tailed Tityra | Boat-billed Flycatcher | Boat-billed Tody-Tyrant | Bran-coloured Flycatcher | Brown-crested Flycatcher | Cinereous Becard | Cinereous Mourner | Cinnamon Attila | Cinnamon-crested Spadebill | Cliff Flycatcher | Common Tody-Flycatcher | Double-banded Pygmy-tyrant | Drab Water-Tyrant More
Variegated Flycatcher - Washington After leading a birding trip for Blue Mountain Audubon Society to the west end of Walla Walla County, WA, on 6 September, MerryLynn and Mike Denny headed to Windust Park. And it was there that the birding became interesting. A tropical flycatcher species was photographed and after much discussion, the correct identity, Variegated Flycatcher, was reached. More
but after research, the identificaton of a VARIEGATED FLYCATCHER was confirmed. The flycatcher was very cooperative all day on Sept 7 when Ron Louderback took these photos. For more photos, visit Ron's website. More
This Variegated Flycatcher was many thousands of miles out of range when it was discovered at Windust Park, Franklin County, Washington. Collectively, the group of birders present took about 1000 pictures while it sat on this plastic bucket on 7 September 2008. The only species of bird that I've actually seen on a bucket is Variegated Flycatcher. More
Variegated FlycatcherBirds in Suriname = - Variegated Flycatcher Tyran tachet More
The streaky-looking Variegated Flycatcher is a summer visitor from northern South America. They are noisy birds, calling regularly. Though they may look distinctive they can be extremely difficult to separate from the Streaked Flycatcher at times, and are best distinguished by their shape - this species being a smaller, shorter-billed bird with a littler head!!FIGURE 1 - Adult lateral view, Encarnaci More
Alert: Variegated Flycatcher in Washington - September 7th, 2008 · Rick Wright · Recent Sightings and Highlights · No Comments A Variegated Flycatcher was photographed today in Franklin County, Washington. Though obviously very rare, this species has become one of the more expected South American vagrants north, with records as far afield as Maine. More
(PIRFL) from Variegated Flycatcher (VARFL) is an issue since a handful of each taxon have been documented in Canada and the U.S. (c. 5 VARFL; c. More