Southern Beardless Tyrannulet
The Southern Beardless Tyrannulet is 10.2 cm long, weighs 7.5g and often resembles a tiny Yellow-bellied Elaenia. The head is dark brown or grey with an erectile crest and pale supercilium. The upperparts are grey-green becoming paler on the rump. The wings are brown with yellow feather-edging and two whitish, yellowish or cinnamon wing bars. The tail, which regularly is held cocked, is brown, the throat grey, the breast yellowish, and the abdomen yellow. The bill is black, but at least the base of the lower mandible is pale.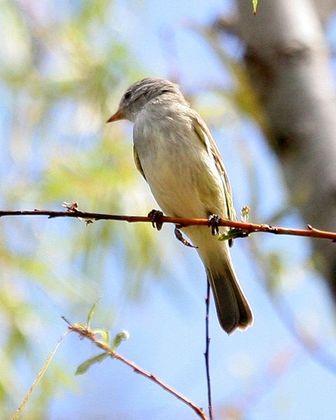 Picture of the Southern Beardless Tyrannulet has been licensed under a Creative Commons
Attribution-Share Alike
.
Original source
: http://www.flickr.com/photos/lipkee/444955977/
Author
: Lip KeePermission(Reusing this file)creative Commons ShareAlike2.0
The Southern Beardless Tyrannulet is classified as Least Concern. Does not qualify for a more at risk category. Widespread and abundant taxa are included in this category.

The Southern Beardless Tyrannulet, Camptostoma obsoletum, is a small passerine bird in the tyrant flycatcher family. It breeds from Costa Rica through South America south to Paraguay, Bolivia, and Argentina. More
eastern wood peweeThe southern beardless tyrannulet is a small flycatcher 4-5 inches in length. It is grayish-green on its upperparts. It has a grayish throat and a yellowish breast and belly. It has brown wings with two whitish, yellowish, or rusty wing bars. Males and females look alike. Range The southern beardless tyrannulet breeds from Costa Rica south to Argentina. More
Southern Beardless Tyrannulet determination Similar species Tyrannidae Amazonian Royal Flycatcher | Bearded Tachuri | Black-capped Becard | Black-chested Tyrant | Black-crowned Tityra | Black-tailed Tityra | Boat-billed Flycatcher | Boat-billed Tody-Tyrant | Bran-coloured Flycatcher | Brown-crested Flycatcher | Cinereous Becard | Cinereous Mourner | Cinnamon Attila | Cinnamon-crested Spadebill | Cliff Flycatcher | Common Tody-Flycatcher | Double-banded Pygmy-tyrant | Drab Water-Tyrant More
The Southern Beardless Tyrannulet, Camptostoma obsoletum, is a small passerine bird in the tyrant flycatcher family. It breeds from Costa Rica through South America south to Paraguay, Bolivia, and Argentina. Description - The Southern Beardless Tyrannulet is 10.2 cm long, weighs 7.5g and often resembles a tiny Yellow-bellied Elaenia. The head is dark brown with an erectile crest and pale supercilium. The upperparts are grey-green becoming paler on the rump. More