Orange-headed Thrush
It is common in well-wooded areas of India, China and southeast Asia. Most populations are resident. The species shows a preference for shady damp areas, and like many Zoothera thrushes, can be quite secretive.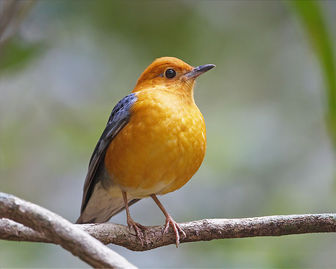 Picture of the Orange-headed Thrush has been licensed under a Creative Commons
Attribution-Share Alike
.
Original source
: Own work
Author
: JJ Harrison (http://www.noodlesnacks.com/)Camera location
The Orange-headed Thrush is classified as Least Concern. Does not qualify for a more at risk category. Widespread and abundant taxa are included in this category.

Orange-headed Thrush, and the first of a surprisingly large number of Red-throated Flycatchers. Moving on from there, we went up towards a nearby area of "allotments" (actually a formal rose garden and part of the research conducted at the Gardens) and a track through some exciting-looking, forested depressions down to a lake with a small (garish) viewing platform shaped like a clover leaf. More
The Orange-headed Thrush Zoothera citrina is a generally shy species that is said to be crepuscular and "a bird of deep shade" (Birds of South Asia. Volume 2. Rasmussen et al). There are between three and five subspecies (depending on which author you read): the birds in Bangladesh are the Himalayan nominate form citrina which are recognised by their all orange heads and white wing-bars. That's the cold science out of the way, and I'm glad. More
"The Orange-Headed Thrush (Zoothera citrina) has been a regular visitor to our backyard for some years now. It is until recently that this forest floor dwelling omnivorous bird gained exposure in our local community, probably attributed to heightened knowledge in wild life of our general population. "Although the bird spent most of its time foraging for insects, earthworms and fruits in the shady confines of the forest, it does manifest itself briefly in the open to bath. More
The Orange-headed Thrush (Zoothera citrina) is a bird in the thrush family. It is common in well-wooded areas of India, China and southeast Asia. Most populations are resident. The species shows a preference for shady damp areas, and like many Zoothera thrushes, can be quite secretive. The Orange-headed Thrush is omnivorous, eating a wide range of insects, earthworms and fruit. It nests in trees but does not form flocks. More
Orange-headed Thrush in FRIM 3rd February 2010 FRIM or the Forest Research Institute has a sprawling compound that encompasses kilometers of forest edge. Undeniably scenes that's befitting the most attractive destination for bird watching. That point is true! Many species of quality birds were recorded. Unfortunately the hills and jungle that surround the land are of monoculture or that of badly disturbed forest. More
The Orange-headed Thrush is a shy, secretive bird usually occurring alone or in pairs, but is comparatively more easily seen than many other Zoothera Thrushes. OHT are winter visitor to Malaysia come November and stayed on until March. It has a swift, silent flight, but when disturbed will often sit motionless until the threat has passed. Calls of the Orange-headed Thrush include a soft chuk or tchuk, a screeching teer-teer-teer, and a thin tsee or dzef given in flight. More
"The adult male Orange-headed Thrush has an entirely orange head and underparts, uniformly grey upperparts and wings, and white median and undertail coverts. It has a slate-coloured bill and the legs and feet have brown fronts and pink or yellowish rears." This was the first time I came across a Orange-headed Thrush, but they must be very common over here at Cerok Tokun. More
The Orange-headed Thrush is the star species but nine others have official song contest classes. In order of popularity and prestige these are: Long-tailed Shrike Lanius schach, White-rumped Shama Copsychus malabaricus, Oriental Magpie Robin C. saularis. Chestnut-capped Thrush Z. interpres, Straw-headed Bulbul Pycnonotus zeylanicus, Canary Serinus canarius, Lovebird Agapomis spp., Greater Green Leafbird Chloropsis sonnerati, Blue-winged Leafbird C. cochinchinensis and Hill Blue Flycatcher Cyornis banyumas. More
Front/side-on view of a Orange-Headed Thrush, perched on a thin branch, showing the orange body feathers/plumage, grey wings and tail feathers and orange head in profile. More
A medium sized bird of around 22 cm the Orange-headed Thrush is an uncommon winter visitor to lowland evergreen and deciduous forests of central and southern Thailand. Elsewhere the species has a wide distribution through much of the Oriental Region from Pakistan to China and south to Indonesia. Like most thrush species, they forage in damp densely vegetated areas on terrestrial invertebrates. Although the light was poor in the dense forest, this individual was quite cooperative and I was able to get quite a few shots. More