Groundscraper Thrush
The Groundscraper Thrush is a passerine bird of southern and eastern Africa belonging to the thrush family Turdidae. It is the only member of the genus Psophocichla.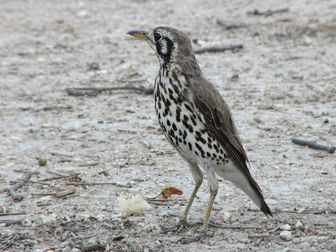 Picture of the Groundscraper Thrush has been licensed under a Creative Commons
Attribution-Share Alike
.
Original source
: Flickr here
Author
: Flickr user Alastair Rae . Photo uploaded to commons by user ltshears
The Groundscraper Thrush is classified as Least Concern. Does not qualify for a more at risk category. Widespread and abundant taxa are included in this category.

This Groundscraper Thrush (right) is a South African thrush photographed as it battled its own reflection in a auto windshield. It is most often retained within a monotypic genus (Psophocichla), of of ten such monotypic families within the Turdidae. Another is the strange and unique Fruithunter Chlamydochaera jefferyi, endemic to the mountains of northern Borneo. For many years it was not known how this pigeon-shaped thrush was related to other birds; details of its nest and song have only recently been published. More
The Groundscraper Thrush (Psophocichla litsitsirupa) is a passerine bird of southern and eastern Africa belonging to the thrush family Turdidae. It is the only member of the genus Psophocichla. It is 22–24 cm long with an erect posture, short tail, heavy bill and fairly long legs. The upperparts are plain grey-brown with a chestnut wing-panel. The underparts are white with black spots and the face is white with bold black markings. More
Groundscraper Thrush at EP = Gerda's pictureSubmitted by Gerda on Sat, 18/07/2009 - 6:26am. More
Distribution of Groundscraper thrush in southern Africa, based on statistical smoothing of the records from first SA Bird Atlas Project (© Animal Demography unit, University of Cape Town; smoothing by Birgit Erni and Francesca Little). Colours range from dark blue (most common) through to yellow (least common). See here for the latest distribution from the SABAP2. Food It mainly eats insects, plucking them from ground with short grass tufts, scratching and scraping in leaf litter. More
Habitat: The Groundscraper Thrush is found in savanna, grassland, bushveld, thornveld, and mainly in light wooded forests (such as miombo), where there are junipers, mopane trees or acacias, or in eucalyptus plantations. In Erythrea it can be found at altitudes as high as 2200m. It can become quite tame and will forage in farmyards, parks, gardens and around picnic sites. It generally avoids dense forests where it is replaced by the Olive Thrush (Turdus olivaceus). More
The Groundscraper Thrush is a small to medium sized bird. This thrush imitates the calls of some other birds. Fairly common. Found in savanna woodland, around farmyards and in thornveld. Quite bold, feeding on lawns and in gardens. Feeds on insects and invertebrates. Breeds from October to December, nesting in the fork of a tree. The nest is made of twigs and leaves and lined with feathers. More
The Groundscraper Thrush is an elegant thrush of open woodland and savanna country with a distinctive upright stance. Photographs taken at Gammams water treatment plant near Windhoek and at Epako Lodge. IMG_1750b.jpg IMG_1751b.jpg IMG_1753b.jpg IMG_2496b.jpg IMG_2497b.jpg post a comment Type your message and click Add Comment It is best to login or register first but you may post as a guest. More
page 903 also a picture of the Groundscraper Thrush on page 929. The Groundscraper Thrush belongs to the family of birds classified as Muscicapidae. The Robert's 7 Latin name for Groundscraper Thrush has changed from Turdus litsitsirupa in Robert's 6 to Psophocichla litsitsirupa The map of the Kruger you see on this page shows the areas (coloured orange) where this bird has been identified. More