Turdoides striata
The Jungle Babbler, Turdoides striata, is an Old World babbler found in South Asia. They are gregarious birds that forage in small groups of six to ten birds, a habit that has given them the popular name of Seven Sisters or Saath bhai in Hindi with cognates in other regional languages which means seven brothers.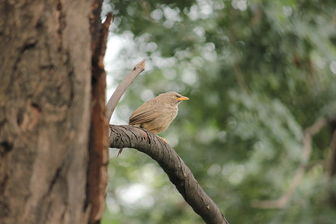 Picture of the Turdoides striata has been licensed under a Creative Commons
Attribution-Share Alike
.
Original source
: Nireekshit
Author
: Nireekshit
The Turdoides striata is classified as Least Concern. Does not qualify for a more at risk category. Widespread and abundant taxa are included in this category.

The Jungle Babbler, Turdoides striata, is an Old World babbler found in South Asia. They are gregarious birds that forage in small groups of six to ten birds, a habit that has given them the popular name of Seven Sisters or Saath bhai in Hindi with cognates in other regional languages which means "seven brothers". More
Jungle BabblersThe Jungle Babbler, Turdoides striata, is an Old World babbler. The Old World babblers are a large family of Old World passerine birds characterised by soft fluffy plumage. These are birds of tropical areas, with the greatest variety in southeast Asia. The Jungle Babbler is a resident breeding bird in India and Pakistan. In the past, the Orange-billed Babbler, Turdoides rufescens, of Sri Lanka was considered to be a race of this babbler, but is now normally given full species status. More