Spotted Laughingthrush
It is found in Bhutan, China, India, Myanmar, and Nepal. Its natural habitat is subtropical or tropical moist montane forests.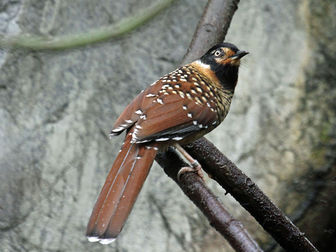 Picture of the Spotted Laughingthrush has been licensed under a
GFDL
Original source
: Own work
Author
: DickDaniels (http://carolinabirds.org/)
Permission
: GNU Free Documentation License
The Spotted Laughingthrush is classified as Least Concern. Does not qualify for a more at risk category. Widespread and abundant taxa are included in this category.

The Spotted Laughingthrush (Garrulax ocellatus) is a bird species in the Old World babbler family (Timaliidae). In the proposed rearrangement of the laughingthrushes, it is placed in the genus Ianthocincla, as I. ocellata. It is found in Bhutan, China, India, Myanmar, and Nepal. Its natural habitat is subtropical or tropical moist montane forests. References - * BirdLife International 2004. Garrulax ocellatus. 2006 IUCN Red List of Threatened Species. More
Spotted Laughingthrush (Garrulax ocellatus) is a local resident in Himalayas. More
Spotted Laughingthrush James Eaton Spotted Laughingthrush, Eaglenest WLS @ James Eaton / Birdtour Asia Fire-tailed MyzornisGould's Shortwing Fire-tailed Myzornis, Eaglenest Gould's Shortwing, Eaglenest Brown Fish Owl Jerdon's Babbler Brown Fish Owl, Kaziranga More
The Spotted Laughingthrush (Garrulax ocellatus) is a species of bird in the Timaliidae family. It is found in Bhutan, China, India, Myanmar, and Nepal. Its natural habitat is subtropical or tropical moist montanes. - ABOUT ME More
Here John spotted a Spotted Laughingthrush which for while could resist to be chased away by a squirrel. It was a wonderful and handsome bird which was a lifer for everyone. In the late afternoon we arrived to Maghma which was a desolated, clamp place with a rough tone to it. We slept on second floor in dormitory settings. As the bedding conditions were less than desirable John did not sleep well. More
Laughingthrush but no Spotted Laughingthrush and photography was not allowed. We talked to various soldiers and officers and eventually got permission to drive up the road as far as we could. The pass was 16km away and we had to stop due to icy conditions 7km from the top. We walked up, and with the sun melting the ice, vehicles started to come down by mid-morning, with upward traffic later. More