Red-winged Laughingthrush
The plumage is mostly brown with large areas of red in the wings and tail. The crown and ear-coverts are grey with dark streaks and the throat is dark. The bill and feet are blackish. It has a loud, whistling song and is 27 to 28 centimetres long. The Red-tailed Laughingthrush is similar but has a rufous crown and greyer back and breast.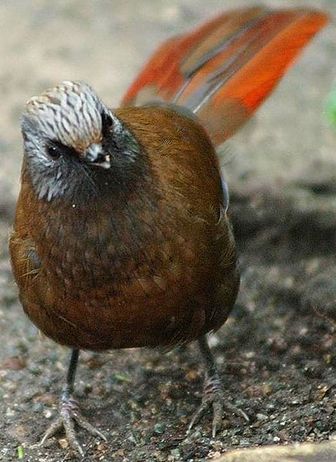 Picture of the Red-winged Laughingthrush has been licensed under a Creative Commons
Attribution-Share Alike
.
Original source
: http://www.buberel.org/gallery/
Author
: Jason L. BuberelPermission(Reusing this file) This file is licensed under the Creative Commons Attribution-Share Alike 1.0 Generic license.You are free:to share – to copy, distribute and transmit the work
The Red-winged Laughingthrush is classified as Least Concern. Does not qualify for a more at risk category. Widespread and abundant taxa are included in this category.

* Red-winged Laughingthrush, Trochalopteron formosum * Red-tailed Laughingthrush, Trochalopteron milnei References - 1. ^ Cibois (2003) 2. ^ Cibois (2003), Pasquet et al. (2006) 3. ^ Rasmussen & Anderton (2005) 4. ^ Collar & Robson (2007) 5. ^ But see Pasquet et al. More
The Red-winged Laughingthrush (Garrulax formosus) is a bird species in the Old World babbler family (Timaliidae). In the proposed rearrangement of the laughingthrushes, it is placed in the genus Trochalopteron, as T. formosum. The plumage is mostly brown with large areas of red in the wings and tail. The crown and ear-coverts are grey with dark streaks and the throat is dark. The bill and feet are blackish. It has a loud, whistling song and is 27 to 28 centimetres long. More
Red-winged Laughingthrush (Trochalopteron formosum) = French: Garrulaxe élégant German: Prachthäherling Spanish: Charlatán Alirrojo Other common names: Crimson-winged Laughingthrush Taxonomy: Trochalopteron formosum J. Verreaux, 1869, "le Thibet oriental" = western Sichuan, China. Genus traditionally subsumed in Garrulax. Individuals of this species observed in N Guangxi of unknown race; presumably belong with nominate. Two subspecies recognized. Subspecies and Distribution: * formosum J. More
Red-winged Laughingthrush and Great Parrotbill, according to Susan Myers. Further down, at the longest bridge (GPS wp 81, ca 15m long) of the stretch Wawu gate - Gongtong Shanzhuang (actually about 15 kms down from the latter, about 7 kms up from Wawu gate), is where the best forest and therefore best chance of Lady Amherst's Pheasant is. According to Susan Myers, driving slowly up and down between 2 kms either side of the bridge is best, starting at 16.30. More
'side-road' starting from the entrance), Red-winged Laughingthrush (in the 'gardens' of Wawu village), White-browed Laughingthrush (3, startled by a Crested Goshawk, along the 'side-road'), Grey-headed Parrotbill (several flocks of up to 120 birds), Ashy-throated Parrotbill (a flock of over 50, in low bamboo bordering the 'side-road' several bends up from the river), Golden-breasted Fulvetta (three small flocks, on one date only), White-browed Bush-Robin (a male next to the Grand Hotel, with a female higher up along the road), Green Shrike-Babbler (just one, in a More
* Red-winged Laughingthrush, Trochalopteron formosum * Red-tailed Laughingthrush, Trochalopteron milnei - ABOUT ME More