Gray-cheeked Fulvetta
It is found in China, Laos, Myanmar, Taiwan, Thailand, and Vietnam in evergreen mountain forests.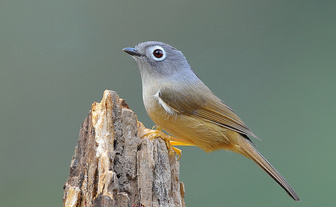 Picture of the Gray-cheeked Fulvetta has been licensed under a Creative Commons
Attribution-Share Alike
.
Original source
: http://www.flickr.com/photos/16942101@N06/2266843607/
Author
: Robert tdc
The Gray-cheeked Fulvetta is classified as Least Concern. Does not qualify for a more at risk category. Widespread and abundant taxa are included in this category.

The Gray-cheeked Fulvetta is a small (12 cm), active bird with olive-brown upperparts, a gray head and buffy underparts. It has a conspicuous wide white eye-ring, a black iris, gray bill and pinkish legs. Sexes are alike. The differences between the Taiwan race morrisonia and the adjacent mainland race hueti are very small, and the distinct status of the Taiwan subspecies is therefore questionable. Gray-cheeked Fulvettas reside in forests and groves from low elevations to upper mountain slopes. More
Diet Analysis of the Gray-cheeked Fulvetta (Alcippe morrisonia) at Fushan Experimental Forest in Taiwan Lien-Siang Chou 1 , Chao-Chieh Chen 1 and ShiWui Loh 2 1 Department of Zoology, National Taiwan University, Taipei, Taiwan, R.O.C. 2 Department of Plant Pathology and Entomology, National Taiwan University, Taipei, Taiwan, R.O.C. More
Warbler, Gray-cheeked Fulvetta), a stretch that I only walked once and should have definitely spent more time in, especially when considering that this is the only spot in Emei Shan where I saw and heard the rare Emei Leaf Warbler, apart from other rarities such as unobtrusive Rusty and shy Barred Laughingthrushes. Below Hongchunping, where the trail levels out and follows the course of a stream, there is yet another shift in Seicercus warblers, this time the newly described Plain-tailed Warbler (Seicercus soror) taking over. More