Hepatic Tanager
The Hepatic Tanager, Piranga flava, is a medium-sized American songbird. Formerly placed in the tanager family , it and other members of its genus are now classified in the cardinal family . The species's plumage and vocalizations are similar to other members of the cardinal family.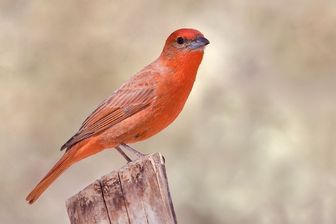 Picture of the Hepatic Tanager has been licensed under a Creative Commons
Attribution-Share Alike
.
Original source
: http://www.naturespicsonline.com/Nature24/index.htm?3
Author
: Elaine R. WilsonPermission(Reusing this file) This file is licensed under the Creative Commons Attribution-Share Alike 3.0 Unported license.You are free:to share – to copy, distribute and transmit the work
The Hepatic Tanager is classified as Least Concern. Does not qualify for a more at risk category. Widespread and abundant taxa are included in this category.

Hepatic Tanager in North and Middle America. Hepatic Tanager is the most widely distributed Piranga tanager, ranging from the southwest United States south to northern Argentina. Its English name is based on the liver-red color of the adult male from the northern part of the species' range; however, its scientific name, flava, meaning "yellow," derives from the original description, which is based on a female from Paraguay. More
The Hepatic Tanager, Piranga flava, is a medium-sized American songbird. Formerly placed in the tanager family (Thraupidae), it and other members of its genus are now classified in the cardinal family (Cardinalidae). The species's plumage and vocalizations are similar to other members of the cardinal family. The habits of the Hepatic Tanager are similar to those of the Western Tanager. More
Orioles and Hepatic Tanagers in Mexico. Auk. vol 94, no 3. p. 594-596. * Eisenmann E. (1969). Wing Formula as a Means of Distinguishing Summer Tanager Piranga-Rubra from Hepatic Tanager Piranga-Flava. Bird Banding. vol 40, no 2. p. 144-145. * Faustino TC & Machado CG. (2006). Avian frugivory in rocky savana at Chapada diamantina, Bahia, Brazil. More
Hepatic Tanager: Breeds in southwest U.S. south to Mexico; also occurs from Costa Rica to South America. Spends winters south of U.S.-Mexico border. Inhabits open pine and pine-oak forests. Voice Text "chup" Interesting Facts * The Hepatic Tanager was traditionally placed in the tanager family, though it is now thought to be closer to cardinals. * It has been little studied. More
The Hepatic Tanager is a bird of the pine-oak forests of the southwestern mountains. More
* Can Hepatic Tanagers be found in Oregon? * What is the weight of a Tanager? * What is a golden tanager? * What eats the tanager? * What is Hepatitis A? » More Mentioned in * summer tanager * northern cardinal * Hepatic Tanager * Piranga More
Hepatic Tanager is darker, with a blackish bill. Voice: Note, a staccato pi-tuk or pik-i-tuk-i-tuk. Song, robin-like phrases, less nasal and resonant than Scarlet Tanager's. Range: Cen. and s. U.S. to n. Mexico. Winters Mexico to Brazil. Habitat: Woods, groves (especially oaks). More
Hepatic TanagerThe Hepatic Tanager, Piranga flava, is a medium-sized songbird of the Tanager family, Thraupidae. It is one of five Tanagers found in North America. The habits of the Hepatic Tanager are similar to those of the Western Tanager. Hepatic Tanager Distribution / Habitat: Its range includes Arizona, New Mexico, Texas, and Mexico. Description: At an average of 6. More
Bent Life History for the Hepatic Tanager - the common name and sub-species reflect the nomenclature in use at the time the description was written. Hepatic Tanager Bangs Eastern Hepatic Tanager PIRANGA FLAVA DEXTRA HABITS Outram Bangs (1907) described this eastern race as: "Similar to true P. More
Resident in Central America and Mexico, the Hepatic Tanager nests in parts of the southwestern U.S. but migrates south for the winter. South American populations are also migratory. Hepatic Tanagers are often seen in small groups during migration, and often follow river valleys. Hepatic Tanagers are very territorial, and are thought to breed at age one. There are a few records of nest parasitism by cowbirds, though it is not known how often it occurs or what effect it has. More
Aspects of the topic hepatic tanager are discussed in the following places at Britannica. Assorted References * description (in tanager (bird)) ...tanager (Piranga olivacea), summer tanager (P. rubra), and western tanager (P. ludoviciana). A less showy bird, the hepatic tanager (P. flava), has a greater breeding range: from southern Arizona to central Argentina. More
Although the Hepatic Tanager has the most restricted range of the four tanagers in the United States, in fact it is the most widespread member of its genus. It breeds from the southwestern United States southward all the way to Argentina. The Hepatic Tanager may include three different species: the Hepatic Tanager, found from the United States southward to Nicaragua; the Tooth-billed Tanager, found from Costa Rica to northern South America; and the Red Tanager of eastern and southeastern South America. More
hepatic tanagerhepatic tanager - common tanager of southwestern United States and MexicoPiranga flava hepaticatanager - any of numerous New World woodland birds having brightly colored malesgenus Piranga, Piranga - a genus of Thraupidae How to thank TFD for its existence? Tell a friend about us, add a link to this page, add the site to iGoogle, or visit webmaster's page for free fun content. More