Violaceous Euphonia
It occurs in forests, second growth and plantations of cocoa and citrus fruit. The ball nest is built on a bank, tree stump or cavity and the normal clutch is four, sometimes three, red-blotched white eggs, which are incubated by the female.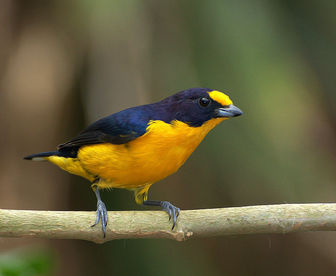 Picture of the Violaceous Euphonia has been licensed under a Creative Commons
Attribution-Share Alike
.
Original source
: originally posted to Flickr as GATURAMO-VERDADEIRO macho( Euphonia violacea )
Author
: Dario SanchesPermission(Reusing this file)This image, which was originally posted to Flickr.com, was uploaded to Commons using Flickr upload bot on 16:53, 11 May 2010 (UTC) by Howcheng (talk). On that date it was licensed under the license below. This file is licensed under the Creative Commons Attribution-Share Alike 2.0 Generic license.You are free:to share – to copy, distribute and transmit the work
The Violaceous Euphonia is classified as Least Concern. Does not qualify for a more at risk category. Widespread and abundant taxa are included in this category.

The Violaceous Euphonia, Euphonia violacea, is a small passerine bird in the true finch family. It is a resident breeder from Trinidad, Tobago and eastern Venezuela south to Paraguay and northeastern Argentina. The bird's range in northern Brazil is the lower portion of the Amazon Basin and the adjacent Tocantins River drainage, with its northwestern limits from Brazil and the Guyanas, the eastern banks of the Orinoco River drainage in central Venezuela. More
The Violaceous Euphonia, Euphonia violacea, is a small passerine bird. It is a resident breeder from Trinidad, Tobago and eastern Venezuela south to Paraguay and northeastern Argentina. It occurs in forests, second growth and plantations of cocoa and citrus fruit. The ball nest is built on a bank, tree stump or cavity and the normal clutch is four, sometimes three, red-blotched white eggs, which are incubated by the female. Adult Violaceous Euphonias are 11.4 cm long and weigh 14 g. More
Violaceous EuphoniaBirds in Suriname = - Violaceous Euphonia in Suriname gaturamo(male), gaipava(female) Semp, plantain canary Curru More
Violaceous EuphoniaThe Violaceous Euphonia, Euphonia violacea, is a small passerine bird in the finch family. It is a resident breeder from Trinidad, Tobago and eastern Venezuela south to Paraguay and northeastern Argentina. It occurs in forests, second growth and plantations of cocoa and citrus fruit. More
For the purposes of our bird news services, Violaceous Euphonia is classed as Ungraded: species that are unlikely to appear as wild birds in Britain or Ireland hide section Most recent photos of Violaceous Euphonia (1) itapooo, Brazil itapooo, Brazil03/08/2009 itapooo, Brazil 03/08/2009 View all pictures of Violaceous Euphonia View all pictures of Violaceous Euphonia show section External Links (0) We currently have no external links for this species. More
The Violaceous Euphonia's song is a varied mix of musical notes, squeaks, chattering and imitation. Members of the genus Euphonia are prized as cage birds and several are threatened by trapping, but this species benefits from its relatively inaccessible habitat. Excerpt from: http://en.wikipedia. More
The Violaceous Euphonia, Euphonia violacea, is a small passerine bird in the true finch family. It is a resident breeder from Trinidad, Tobago and eastern Venezuela south to Paraguay and northeastern Argentina. More