Thick-billed Euphonia
It is found in Bolivia, Brazil, Colombia, Costa Rica, Ecuador, Panama, Peru, and Venezuela. Its natural habitats are subtropical or tropical dry forests, subtropical or tropical moist lowland forests, and heavily degraded former forest.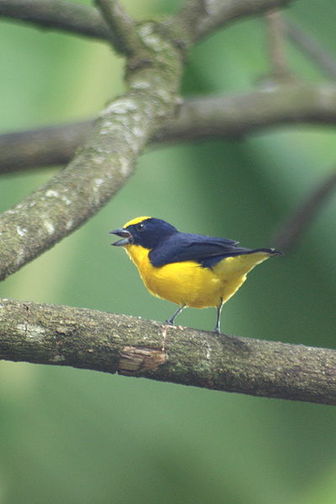 Picture of the Thick-billed Euphonia has been licensed under a Creative Commons
Attribution
.
Original source
: originally posted to Flickr as Eaphonia laniirostris (Thick billed Euphonia)
Author
: Rogier KlappePermission(Reusing this file)This image, which was originally posted to Flickr.com, was uploaded to Commons using Flickr upload bot on 21:12, 23 November 2009 (UTC) by Snowmanradio (talk). On that date it was licensed under the license below.This file is licensed under the Creative Commons Attribution 2.0 Generic license.You are free:to share – to copy, distribute and transmit the work
The Thick-billed Euphonia is classified as Least Concern. Does not qualify for a more at risk category. Widespread and abundant taxa are included in this category.

The Thick-billed Euphonia (Euphonia laniirostris) is a species of bird in the family Fringillidae, formerly placed in the Thraupidae. It is found in Bolivia, Brazil, Colombia, Costa Rica, Ecuador, Panama, Peru, and Venezuela. Its natural habitats are subtropical or tropical dry forests, subtropical or tropical moist lowland forests, and heavily degraded former forest. References - * BirdLife International 2004. Euphonia laniirostris. 2006 IUCN Red List of Threatened Species. More
Thick-billed Euphonia Euphonia laniirostris = Described by: d'Orbigny; Lafresnaye (1837) Alternate common name(s): Black-tailed Euphonia Old scientific name(s): None known by website authors Photographs Fort San Lorenzo, Panama - Jan 20, 2004 More
Thick-billed Euphonia Euphonia laniirostris 2009 IUCN Red List Category (as evaluated by BirdLife International - the official Red List Authority for birds for IUCN): Least Concern Justification This species has an extremely large range, and hence does not approach the thresholds for Vulnerable under the range size criterion (Extent of Occurrence 30% decline over ten years or three generations). More
This Thick-billed Euphonia was close to the cabins at Burbayar Lodge on March 22/23, 2009: More
Thick-billed Euphonia, Euphonia laniirostris Thraupidae (TANAGERS & ALLIES) Thick-billed Euphonia, Euphonia laniirostris This photo was taken in: Colombia This photo was taken with: Kodak DX4530 hand held to a Bausch & Lomb Elite 80 MM spotting scope Notes on this photo: A common bird from the vicinity of Medellin, Colombia The photo was taken by: Jeff Harding , More