Olive-backed Euphonia
The Olive-backed Euphonia is found in wet forests, tall second growth and adjacent bushy clearings, typically from sea level to 750 m altitude, sometimes up to 1000 m. The spherical cup nest, with a side entrance, is hidden amongst epiphytes or mosses 2–11 m high in a tree. The normal clutch is three brown-marked white eggs.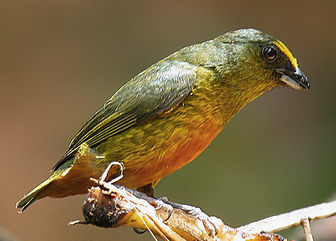 Picture of the Olive-backed Euphonia has been licensed under a Creative Commons
Attribution-Share Alike
.
Original source
: Olive-backed Euphonia (Euphonia gouldi) male
Author
: Steve Garvie from Dunfermline, Fife, Scotland
The Olive-backed Euphonia is classified as Least Concern. Does not qualify for a more at risk category. Widespread and abundant taxa are included in this category.

The Olive-backed Euphonia, Euphonia gouldi, is a small passerine bird in the finch family. It is a resident breeder in the Caribbean lowlands and foothills from southern Mexico to western Panama. The Olive-backed Euphonia is found in wet forests, tall second growth and adjacent bushy clearings, typically from sea level to 750 m altitude, sometimes up to 1000 m. The spherical cup nest, with a side entrance, is hidden amongst epiphytes or mosses 2–11 m high in a tree. More
* Olive-backed Euphonia male A perched adult male in sunshine. Arenal region, Alajuela Province, Costa Rica Steve Garvie 6 July 2008 2 weeks ago ADDED LAST MONTH 3.8 * Olive-backed Euphonia Male. Tikal National Park, Petén, Guatemala Knut Eisermann 15 May 2009 23 weeks ago 3. More
The Olive-backed Euphonia, Euphonia gouldi, is a small passerine bird in the finch family. The scientific species name commerorates John Gould, the English ornithologist. Olive-backed Euphonias Distribution / Habitat: It is a resident breeder in the Caribbean lowlands and foothills from southern Mexico to western Panama. More
The Olive-backed Euphonia's call is a metallic chrrr-chrrr, and the song is mixture of the call with clear or nasal whistles. External Links - Image:Icon_camera_link.png Search for photos of Olive-backed Euphonia in the BirdForum Gallery Retrieved from "http://www.birdforum.net/opus/Olive-backed_Euphonia" Categories: Birds | Euphonia Advertisement * This page was last modified 13:47, 21 April 2008. * This page has been accessed 862 times. More
For the purposes of our bird news services, Olive-backed Euphonia is classed as Ungraded: species which are unlikely to appear as wild birds in Britain or Ireland hide section Most recent photos of Olive-backed Euphonia (1) Arenal Observatory, Guanacaste, Costa Rica Arenal Observatory, Guanacaste, Costa Rica17/02/2008 Arenal Observatory, Guanacaste, Costa Rica 17/02/2008 View all pictures of Olive-backed Euphonia View all pictures of Olive-backed Euphonia show section External Links (0) We currently have no More
The Olive-backed Euphonia occurs in small groups, or as part of a mixed-species feeding flock. This species feeds mainly on small fruits. The Olive-backed Euphonia's call is a metallic chrrr-chrrr, and the song is mixture of the call with clear or nasal whistles. The spherical cup nest, with a side entrance, is hidden amongst epiphytes or mosses anywhere from 6 to 36 feet high in a tree. The normal clutch is three brown-marked white eggs. More