Elegant Euphonia
Its natural habitats are subtropical or tropical moist montane forests and heavily degraded former forest.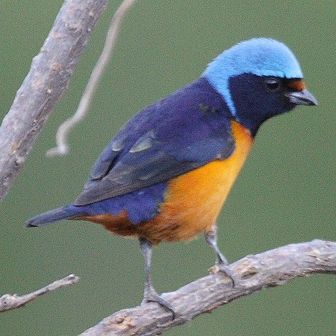 Picture of the Elegant Euphonia has been licensed under a Creative Commons
Attribution-Share Alike
.
Original source
: http://www.flickr.com/photos/9765210@N03/2396377640/in/set-72157604425087040/
Author
: dominic sherony
The Elegant Euphonia is classified as Least Concern. Does not qualify for a more at risk category. Widespread and abundant taxa are included in this category.

The Blue-hooded or Elegant Euphonia (Euphonia elegantissima) is a species of bird in the Fringillidae family. It is found in Belize, Costa Rica, El Salvador, Guatemala, Honduras, Mexico, Nicaragua, and Panama. Its natural habitats are subtropical or tropical moist montane forests and heavily degraded former forest. References - * BirdLife International 2004. Euphonia elegantissima. 2006 IUCN Red List of Threatened Species. Downloaded on 25 July 2007. More
Elegant Euphonia Eurasian Bullfinch Eurasian Bullfinch Eurasian Siskin Eurasian Siskin European Goldfinch European Goldfinch European Greenfinch European Greenfinch European Serin European Serin Evening Grosbeak Evening Grosbeak Not-found-104x104 Fulvous-vented Euphonia Golden-browed Chlorophonia Golden-browed Chlorophonia Gray-crowned Rosy-Finch Gray-crowned Rosy-Finch Hawfinch Hawfinch Not-found-104x104 Hispaniola Crossbill Hoary Redpoll Hoary Redpoll Not-found-104x104 Hooded Grosbeak House Finch House Finch Not-found-104x104 Island Canary Not-found-104x104 Jamaican Euphonia Lawrence's Goldfinch Lawrence's Goldfinch Lesser Goldfinch Lesser Goldfinch Not-found-104x104 Olive-backed Euphonia Not-found-104x104 Orange-bellied Euphonia Oriental Greenfinch More
Elegant Euphonia would be a splendid addition to the bird list for visitors to the Canopy Lodge, and a stark reminder of how much there remains to be discovered regarding the distributions of Panamanian birds! Return to Bird Species Watchlist Copyright More
Elegant Euphonia, is a species of bird in the Fringillidae family. It is found in Belize, Costa Rica, El Salvador, Guatemala, Honduras, Mexico, Nicaragua, and Panama. Its natural habitats are subtropical or tropical moist mountainous forests and heavily degraded former forest. More