Glossy Flowerpiercer
Its natural habitats are subtropical or tropical moist montanes, subtropical or tropical high-altitude grassland, and heavily degraded former forest.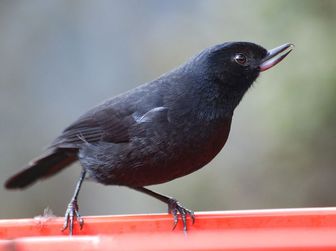 Picture of the Glossy Flowerpiercer has been licensed under a Creative Commons
Attribution
.
Original source
: Glossy Flower-piercer
Author
: The Lilac Breasted Roller from Sullivan's Island, United StatesPermission(Reusing this file)See license
The Glossy Flowerpiercer is classified as Least Concern. Does not qualify for a more at risk category. Widespread and abundant taxa are included in this category.

The Glossy Flowerpiercer (Diglossa lafresnayii) is a species of bird in the Thraupidae family. It is found in Colombia, Ecuador, Peru, and Venezuela. Its natural habitats are subtropical or tropical moist montanes, subtropical or tropical high-altitude grassland, and heavily degraded former forest. References - Search Wikimedia Commons Wikimedia Commons has media related to: Diglossa lafresnayii * BirdLife International 2004. Diglossa lafresnayii. More
Glossy Flowerpiercer at sap well, Papallacta, Ecuador - Sap-well Use and Maintenance in a Tanager We described the first record of sap-well use and maintenance in a tanager, based on observations of a Glossy Flowerpiercer on the east slope of the Andes in Ecuador. Sap-well use is well known in the sapsuckers and in some other woodpeckers, but is otherwise rare in birds. More