Purple Honeycreeper
The Purple Honeycreeper is 4.5 in long, weighs 0.42 oz and has a long black decurved bill. The male is purple with black wings, tail and belly, and bright yellow legs. Females and immatures have green upperparts, and green-streaked yellowish-buff underparts. The throat is cinnamon, and there is a blue moustachial stripe. The call of Purple Honeycreeper is a thin high-pitched zree.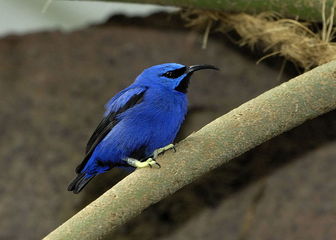 Picture of the Purple Honeycreeper has been licensed under a
GFDL
Original source
: Norbert Potensky
Author
: Norbert Potensky
Permission
: GNU Free Documentation License
The Purple Honeycreeper is classified as Least Concern. Does not qualify for a more at risk category. Widespread and abundant taxa are included in this category.

The Purple Honeycreeper, Cyanerpes caeruleus, is a small bird in the tanager family. It is found in the tropical New World from Colombia and Venezuela south to Brazil, and on Trinidad. A few, possibly introduced birds have been recorded on Tobago. The species is a bird of northern South America, and besides the Amazon Basin and the Guianas, a coastal range occurs west of the Andes, including parts of southern Panama. In the south, its range extends to the extreme western Pantanal. More
Product Details Jigsaw of Purple Honeycreeper - male on branch with airplant from Ardea Buy new: £18.88 Usually dispatched within 4 to 5 daysKitchen & Home: See all 10 items 13. Product Details White by Honeycreeper (MP3 Download)Download MP3 Track: £0.79 MP3 Downloads: See all 15 items 14. Product Details Island Biogeography: Ecology, Evolution, and Conservation by Robert J. Whittaker and Jose Maria Fernandez-Palacios (Paperback - 30 Nov 2006)Buy new: £39.95 £37.95 15 new from £30.877 used from £33. More
The call of Purple Honeycreeper is a thin high-pitched zree. The Purple Honeycreeper is often found in small groups. It feeds on nectar, berries and insects, mainly in the canopy. It responds readily to the call of the Ferruginous Pygmy Owl. Copyright: Wikipedia. This article is licensed under the GNU Free Documentation License. It uses material from Wikipedia. More
Aspects of the topic purple honeycreeper are discussed in the following places at Britannica. Assorted References * honeycreeper (in honeycreeper (bird)) All honeycreepers are small, and many have thin, downcurved bills; the tongue is brushy and may be double-tubed. More
Purple Honeycreeper - Not On IUCN Red List Check 2000 IUCN Red List of Threatened Species More
The call of Purple Honeycreeper is a thin high-pitched zree. The Purple Honeycreeper is often found in small groups. It feeds on nectar, berries and insects, mainly in the canopy. It responds readily to the call of the Ferruginous Pygmy Owl. More
The Purple Honeycreeper is 4.5 in (11.5 cm) long, weighs 0.42 oz (12 g) and has a long black decurved bill. The male is purple with black wings, tail and belly, and bright yellow legs. Females and immatures have green upperparts, and green-streaked yellowish-buff underparts. The throat is cinnamon, and there is a blue moustachial stripe. The call of Purple Honeycreeper is a thin high-pitched zree. More
Purple Honeycreeper Female on Trinidad Add Critique Only registered TrekNature members may write critiques. More