Variable Antshrike
The Variable Antshrike is a thickset bird with a total length of approximately 14-16 cm . The male has black wings with grey edging to the remiges , and white wing-bars that may appear spotty, especially on the lesser wing coverts. The tail is black with white tips . In the eastern, central and southern subspecies, the chest and most of the head are grey, the back is grey with variable amounts of black , a semi-concealed white interscapular patch, and the crown is black . The variation in the colour of the belly and crissum is highly complex, ranging from white in some subspecies, over grey in others, to deep cinnamon. The male of the western subspecies melanochrous from the Andes of Peru is strikingly different, being overall black except for the white in its wings and tail. The male of the subspecies aspersiventer of the Andes in north-western Bolivia and adjacent Peru approaches melanochrous in colour, but has dense white barring to the belly.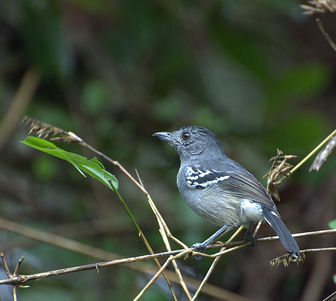 Picture of the Variable Antshrike has been licensed under a Creative Commons
Attribution-Share Alike
.
Original source
: originally posted to Flickr as CHOCA-DA-MATA macho ( Thamnophilus caerulescens)
Author
: Dario SanchesPermission(Reusing this file)This image, which was originally posted to Flickr.com, was uploaded to Commons using Flickr upload bot on 17:11, 14 May 2008 (UTC) by Ltshears (talk). On that date it was licensed under the license below. This file is licensed under the Creative Commons Attribution-Share Alike 2.0 Generic license.You are free:to share – to copy, distribute and transmit the work
The Variable Antshrike is classified as Least Concern. Does not qualify for a more at risk category. Widespread and abundant taxa are included in this category.

A common species, Variable Antshrikes are normally found in the lower growth of forests, usually seem to be seen in pairs and are often conspicuous members of bird parties. Variable Antshrike Variable Antshrike Variable Antshrike Variable Antshrike All photographs copyright Charlie Moores. Looking for a good book or field guide? We've got some suggestions... More
The Variable Antshrike (Thamnophilus caerulescens) is a species of bird in the Thamnophilidae family found widely in South America. It is, as its common name suggests, arguably the species of antbird with the most variable plumage, leading to speculations that it comprises more than one species, but presently available evidence suggests this assumption is incorrect. More