Asian Stubtail
The Asian Stubtail is a species of Old World warbler in the Sylviidae family. It is found in China, Japan, North Korea, South Korea, Laos, Myanmar, Nepal, the Philippines, Russia, Taiwan, Thailand, and Vietnam. Its natural habitat is temperate forests.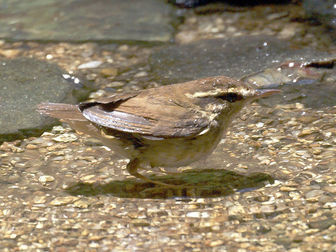 Picture of the Asian Stubtail has been licensed under a
GFDL
Original source
: M.Nishimura
Author
: M.Nishimura
Permission
: GNU Free Documentation License
The Asian Stubtail is classified as Least Concern. Does not qualify for a more at risk category. Widespread and abundant taxa are included in this category.

The Asian Stubtail (Urosphena squameiceps) is a species of Old World warbler in the Sylviidae family. It is found in China, Japan, North Korea, South Korea, Laos, Myanmar, Nepal, the Philippines, Russia, Taiwan, Thailand, and Vietnam. Its natural habitat is temperate forests. References - * BirdLife International 2004. Urosphena squameiceps. 2006 IUCN Red List of Threatened Species. Downloaded on 10 July 2007. More
Asian Stubtail The Asian Stubtail (Urosphena squameiceps) is a species of Old World warbler in the Sylviidae family. It is found in China, Japan, North Korea, South Korea, Laos, Myanmar, Nepal, the Philippines, Russia, Taiwan, Thailand, and Vietnam. Its natural habitat is temperate forests. See more at Wikipedia.org... More
Asian Stubtail Warbler- a real influx of these, more than 10 seen/heard Blue Magpie Chinese Bulbul Grey Wagtail White-brested Waterhen Magpie Blue Rock Thrush (phillipensis) imm Surprisingly, no Mountain Tailorbird today. More
Leaf Warbler 'singing like an Asian Stubtail' (one of which was in Hokkaido, I believe). It seems that Pale-legged Leaf Warbler might not be so very rare in Japan, after all. 2) Calls Although the calls of the two might be very subtly different and separable with practice by those hearing both taxa regularly, it is probably very tough to separate Pale-legged from Sakhalin confidently just on call. More