Garden Warbler
This is a nondescript bird, 13-14.5 cm long, mainly brown-grey above and whitish below. It has no obvious distinctive features. Like most warblers, it is insectivorous. It is a species of shady woodlands with ground cover for nesting. The nest is built in low shrub or brambles, and 3-7 eggs are laid.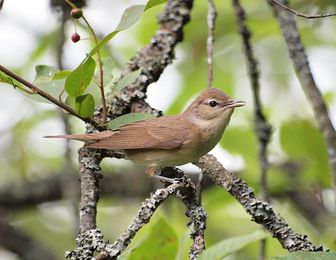 Picture of the Garden Warbler has been licensed under a Creative Commons
Attribution
.
Original source
: http://www.flickr.com/photos/billyboysfotocolection/4843548058/in/photostream/
Author
: Biillyboy
The Garden Warbler is classified as Least Concern. Does not qualify for a more at risk category. Widespread and abundant taxa are included in this category.

The Garden Warbler, Sylvia borin, is a common and widespread typical warbler which breeds throughout northern and temperate Europe into western Asia. This small passerine bird is strongly migratory, and winters in central and southern Africa. This is a nondescript bird, 13-14.5 cm long, mainly brown-grey above and whitish below. It has no obvious distinctive features. Like most "warblers", it is insectivorous. It is a species of shady woodlands with ground cover for nesting. More
The Garden Warbler is a stocky bird with thick grey bill and grey legs. The plumage is plain looking and olive brown-grey in colour, paler underneath than above. There is just the faintest hint of a supercilium, but no eye stripe. Juveniles are very similar to adults but sometimes more olive than grey. This warbler skulks in shrubs and undergrowth and so you may not even be aware of its presence without hearing its song first. More
Aspects of the topic garden warbler are discussed in the following places at Britannica. Assorted References * migration (in migration (animal): Birds) ...determine their latitude and longitude by the position of the stars. In a planetarium in Germany, blackcaps (Sylvia atricapilla) and garden warblers (S. borin), under an artificial autumn sky, headed "southwest," their normal direction; lesser whitethroats (S. More
The Garden Warbler's song is a pleasant chattering with many clearer notes like a Blackbird. The song can be confused with that of Blackcap, but is more melodious Copyright: Wikipedia. This article is licensed under the GNU Free Documentation License. It uses material from Wikipedia.org - Photo, Video and/or Article contributions are welcome! Please click here for info The Avianweb strives to maintain accurate and up-to-date information; however, mistakes do happen. More
Garden Warbler, Sylvia borin Not in a garden, these two, but hiding out in Hemsted Forest. We'd never heard Garden Warblers before, and when this pair struck up as we passed on the track next to their thicket we found ourselves thinking Blackcap, only to dismiss the idea almost immediately. A check with Geoff Sample's cds later identified them quickly as their song is very distinctive. More
* Garden Warbler, Sylvia borin Parisoma superspecies * Banded Warbler, Parisoma boehmi * Layard's Warbler, Parisoma layardi * Rufous-vented Warbler, Parisoma subcaeruleum curruca clade * Brown Warbler, Parisoma lugens * Yemen Warbler, Sylvia buryi - sometimes placed in Parisoma * Red Sea Warbler, Sylvia leucomelaena * (Western) Orphean Warbler, Sylvia hortensis More
The male garden warbler reaches its breeding territory in the beginning of May and will make a number of nests in the bushes. It is only one of these which are later chosen to be the real nest, which is finished off in the mornings when the grass is still damp and easy to mould after the dew of the night. The nests are often found in raspberry bushes, but the species also likes juniper bushes. More
Garden Warbler Sylvia borin = * Home Expand Log in Menu item Register Menu item Log out Menu item Change login details Menu item Why register? Expand UK & Ireland Menu item Birding sites More
garden warblern (Life Sciences & Allied Applications / Animals) any of several small brownish-grey European songbirds of the genus Sylvia (warblers), esp S. borin, common in woods and hedges: in some parts of Europe they are esteemed as a delicacy How to thank TFD for its existence? Tell a friend about us, add a link to this page, add the site to iGoogle, or visit webmaster's page for free fun content. More
Garden Warbler Sylvia borin Other Names Trends & Distribution Breeding & Survival Biometrics Books & Links Order: Passeriformes Family: Sylviidae BTO Codes: GW, GARWA EURING No: 12760 Number in Britain: 190 thousand territories (Summer) Conservation More
Garden Warbler records in the Western Isles Scarce passage visitor (very small numbers each year) Singing have been males heard, but there are no breeding records Source: Outer Hebrides Bird Report (2001) On the chart below the darker the shade of blue the more abundant the bird is during a month or the more likely you are to see it. More
Garden Warbler at Stodmarsh Garden Warbler Treecreepers at their nest site just checking to see if it's still raining Stodmarsh Saturday 01-05-10Only had a couple of ours early this morning, as today being my wedding anniversary, I promised to take her indoors out for the day. I'm soo good..I decided to go to Stodmarsh to try to find a Garden Warbler. More
Garden Warbler - Sylvia borin Fauvette des jardins = Fauvette des jardins The Blackcap and the Garden Warbler Gallery : © Alex et Marie Beauquenne Site web : favieres-photos-nature. More
GARDEN WARBLER Sylvia borin Conservation Listings Long term trend Unlisted/Green Biodiversity Steering Group Conservation Concern List UK: Fluctuating with no long-term trend Status Summary Garden Warbler abundance has varied in parallel, to some extent, with that of other sub-Saharan migrant warblers (Siriwardena et al. 1998b), probably reflecting the influence of the environment on the wintering grounds. More
* Garden Warbler, Sylvia borin * Parisoma superspecies * Banded Warbler, Parisoma boehmi * Layard's Warbler, Parisoma layardi * Rufous-vented Warbler, Parisoma subcaeruleum * curruca clade * Brown Warbler, More
garden warbler kruger national park birds The Garden Warbler (Latin name Sylvia borin) is described in Roberts Birds of Southern Africa, 7th Edition. This bird has a unique Roberts number of 619 and you will find a full description of this bird on page 819 also a picture of the Garden Warbler on page 848. The Garden Warbler belongs to the family of birds classified as Sylviidae. The map of the Kruger you see on this page shows the areas (coloured orange) where this bird has been identified. More