Pallas's Grasshopper Warbler
This small passerine bird is a species found in tall grass with some thicker vegetation, usually close to water in bogs or wet meadows. From 4 to 7 eggs are laid in a nest on the ground in grass. This species is a very rare vagrant to western Europe. One of the best places to see this skulking species as a vagrant is Fair Isle, Shetland; for a species that only rarely appears in western Europe, it can be found there with some regularity. This has made it a popular species among UK twitchers in whose jargon it is known as PG Tips.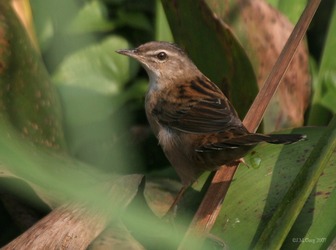 Picture of the Pallas's Grasshopper Warbler has been licensed under a
GFDL
Original source
: J.M.Garg
Author
: J.M.Garg
Permission
: GNU Free Documentation License
The Pallas's Grasshopper Warbler is classified as Least Concern. Does not qualify for a more at risk category. Widespread and abundant taxa are included in this category.

The Pallas's Grasshopper Warbler, Locustella certhiola, is an Old World warbler in the grass warbler genus Locustella. It breeds in east Asia. It is migratory, wintering from India east to Indonesia. In Kolkata, West Bengal, India. This small passerine bird is a species found in tall grass with some thicker vegetation, usually close to water in bogs or wet meadows. From 4 to 7 eggs are laid in a nest on the ground in grass. More
Pallas's Grasshopper Warbler, rather than this species, as "Pallas's Warbler". References - 1. ^ BirdLife International (2006). Phylloscopus proregulus. 2006. IUCN Red List of Threatened Species. IUCN 2006. www.iucnredlist.org. Retrieved on 12 May 2006. 2. ^ Alström, Per (2006): Species concepts and their application: insights from the genera Seicercus and Phylloscopus. More
Pallas's Grasshopper Warbler, rather than this species, as "Pallas's Warbler". This bird is named after the German zoologist Peter Simon Pallas. Description: This is one of the smallest warblers, and shares greenish upperparts and off-white underparts with typical leaf warblers. However, this is a little jewel of a bird, with prominent double wing bars, supercilia and crown stripe, and a lemon-yellow rump. More
View all pictures of Pallas's Grasshopper Warbler View all pictures of Pallas's Grasshopper Warbler show section Past records (7) This species has been reported in the following areas (Bird News Extra subscribers can click a county name for more details): Cork Dorset Dublin Norfolk Northumbs Orkney Shetland show section Products featuring Pallas's Grasshopper Warbler (3) BWPi DVD-ROM 2.0 (DRBWP: £135. More
The Pallas's Grasshopper Warbler in Norfolk Birding World Author Steve Joyner Language English Magazine Birding World, vol. 14, no. 9, 2001 Page 382 - 384 Contents The record of a juvenile Pallas's Grasshopper Warbler at Blakeney Point, Norfolk, found by Steve Joyner and Andy Stoddart on 22nd September 2001, the 27th record for Britain. More
The Pallas's Grasshopper Warbler caught in the Observatory ringing garden on 13.9. More
Pallas's Grasshopper Warbler records in the Western Isles I asked Martin Scott of Western Isles RSPB was the Pallas's Warbler was a first for the islands? It will be the first Pallas's Grasshopper Warbler, if accepted. Pallas's Warbler however is a totally different species! The chart below shows how abundant the ZZZ is during a month or when you are more likely to see it. More