Melodious Warbler
This small passerine bird is a species found in open woodland with bushes. 3-5 eggs are laid in a nest in a tree or a bush.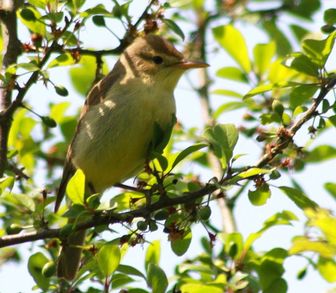 Picture of the Melodious Warbler has been licensed under a Creative Commons
Attribution-Share Alike
.
Original source
: aigledayres
Author
: aigledayres
The Melodious Warbler is classified as Least Concern. Does not qualify for a more at risk category. Widespread and abundant taxa are included in this category.

The Melodious Warbler (Hippolais polyglotta) is an Old World warbler in the tree warbler genus Hippolais. It breeds in southwest Europe and northwest Africa. It is migratory, wintering in sub-Saharan Africa. This small passerine bird is a species found in open woodland with bushes. 3-5 eggs are laid in a nest in a tree or a bush. This is a medium-sized warbler, 12-13cm in length, and similar to its eastern counterpart, Icterine Warbler. More
12600 - Melodious Warbler - Hippolais polyglotta Combination of three colour rings and metal ring. Ortwin Elle, University of Trier, Dpt. of Biogeography, Wissenschaftspark 25-27, D-54296 Trier, Germany e-mail: elle@uni-trier.de note 1: the project started in 2008 and covers the expanding breeding population of the Saar-Mosel region (southwest Germany). More
Melodious Warbler - Hippolais polyglotta Hypolaïs polyglotte = Hypolaïs polyglotte Warblers of the Great Lakes Region and Eastern North America Gallery : © Marcel Van der Tol Order : Passériformes Family : Acrocephalidae Species : Melodious Warbler Reference: mvdt2892 Other pictures Copy forbidden without prior authorization. More
Melodious Warbler Hippolais polyglotta = * Home Expand Log in Menu item Register Menu item Log out Menu item Change login details Menu item Why register? Expand UK & Ireland Menu item Birding sites More
Melodious Warbler (Hippolais polyglotta) Melodious Warbler (Hippolais polyglotta) Melodious Warbler (Hippolais polyglotta) Melodious Warbler (Hippolais polyglotta) Melodious Warbler (Hippolais polyglotta) Melodious Warbler (Hippolais polyglotta) Melodious Warbler (Hippolais polyglotta) Melodious Warbler (Hippolais polyglotta) Melodious Warbler (Hippolais polyglotta) Melodious Warbler (Hippolais polyglotta) Melodious Warbler (Hippolais polyglotta) Melodious Warbler (Hippolais polyglotta) Melodious Warbler (Hippolais polyglotta) Melodious Warbler (Hippolais polyglotta) More
Meadow Pipit Melodious Warbler Mexican Chickadee Middle Spotted Woodpecker Mistle Thrush Moluccan Cockatoo Montagu's Harrier Montezuma Oropendola Mottled Duck Mountain Bluebird Mountain Chickadee Mountain Fulvetta Mountain Plover Mountain Plover Mourning Dove Mourning Warbler Moussier's Redstart Muscovy Duck Musk Lorikeet Mute Swan Myrtle Warbler Namaqua Dove Nankeen Kestrel Nankeen Night Heron Nashville Warbler Nazca Booby Nelson's Sharp-tailed Sparrow Nene-nui New Caledonian Crow New Holland Honeyeater New Zealand Bellbird New Zealand Dotterel New Zealand Pigeon (Kererû) New Zealand Quail Nicobar More
Melodious Warbler, Dorset, Portland Bird Obs 3rd August 2002 © Martin Cade Melodious Warbler - Melodious Warbler, County Durham, Whitburn 04/07/03 © thomas tams Photo taken in better light Melodious Warbler - Melodious Warbler, Durham, Whitburn 04/07/03 © John Malloy More @ http://mysite.freeserve. More
Melodious Warbler at Souter Point, Co. Durham (second clump of bushes south of the Lighthouse) Anyone been for this yet? I'll be down there tomorrow morning Michael Saw the bird today. It showed very well worth going to see. More
Melodious Warbler Hippolais polyglotta (0:52) Bram Piot 12-5-2008 ? France Thoiry, Ain 450 Song (B) 2 birds singing XC26553 Melodious Warbler Hippolais polyglotta (0:18) Bram Piot 24-7-2007 ? France Thoiry, Ain 450 More
species overview :: Melodious Warbler (Hippolais polyglotta) = Nr. More
* Melodious Warbler (Hippolais polyglotta)0:59 * Ajouter à la file d'attente Ajoutée à la file d'attente Melodious Warbler (Hippolais polyglotta)49 vuesdalabirder * bird on antenna2:16 * Ajouter à la file d'attente Ajoutée à la file d'attente bird on antenna147 vuespadseenoodle * Frosoni More