Dark-capped Bulbul
The bill is fairly short and straight. The bill, legs and feet are black and the eye is dark brown with a dark eye-ring, which is not readily visible.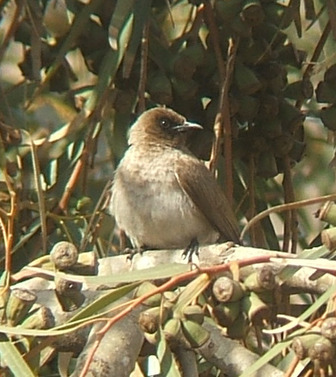 Picture of the Dark-capped Bulbul has been licensed under a
GFDL
Original source
: Pycnonotus barbatus, Oued Massa National Park, Morocco, 17 April 2006
Permission
: GNU Free Documentation License
The Dark-capped Bulbul is classified as Least Concern. Does not qualify for a more at risk category. Widespread and abundant taxa are included in this category.

The Dark-capped Bulbul feeds aboreally on fruit and insects it gleans from the leaves and bark. It also feeds on the ground and hawks insects in the air. BREEDING It nests from September to April throughout KwaZulu-Natal. The nest is a thin-walled neat cup of twigs and plant fibres lined with finer material and hair placed in a forked branch far from the trunk. More
The Dark-capped Bulbul is the 7th in the series of the birds of the Kruger National Park, which I am currently sharing. Enjoy! Just like the Red-billed Buffalo Weaver this bird was photographed in front of the bungalow where we stayed in the Satara campsite. It was pecking around on the ground together with various other birds like the Crested Barbet, Red-billed Hornbill, Cape Glossy Starling, a variety of doves, some House Sparrows and the Red-billed Buffalo Weaver as mentioned. More
The Dark-capped Bulbul is mostly greyish-brown above and whitish-brown below, with a distinctive dark head and pointy crest on top of the head. The back of the head merges into the brown of the back, and the chin is also blackish. The underparts are grey-brown apart from white or yellow, depending on the subspecies, around the vent. It is about 18 cm in length, with a long tail. It has a dark brown head and upperparts. Sexes are similar in plumage. More
The Dark-capped Bulbul is a Southern African bird that belongs to the Pycnonotidae bird family group which includes birds such as Bulbuls, Nicators. The description for the Dark-capped Bulbul (Latin name Pycnonotus tricolor) can be found in the 7th Edition of the Roberts Birds of Southern Africa. The Pycnonotus tricolor can be quickly identified by its unique Roberts identification number of 568 and the detailed description of this bird is on page 766. More
a picture of the Dark-capped Bulbul on page 817. The Dark-capped Bulbul belongs to the family of birds classified as Pycnonotidae. According to the Percy FitzPatrick Institute of African Ornithology the Dark-capped Bulbul is also known by these other names: Common Bulbul, Black-capped Bulbul, Common Garden Bulbul, Yellow-vented Bulbul. Dark capped BulbulThe map of the Kruger you see on this page shows the areas (coloured orange) where this bird has been identified. More
This Dark-capped Bulbul was photographed in the Kruger National Park recently by Andrew Acker. It is leucistic, showing paleness on most of the body instead of the normal darker colour. More
Dark-Capped Bulbul in Pilanesberg Game Reserve, South Africa More
Dark-capped Bulbul (#1 of 2) Dark-capped Bulbul (#1 of 2) Dark-capped Bulbul (#2 of 2) Dark-capped Bulbul (#2 of 2) Yellow-bellied Greenbul Yellow-bellied Greenbul Olive Thrush Olive Thrush Spotted Ground-thrush Spotted Ground-thrush Sentinel Rock-thrush (#1 of 2) Sentinel Rock-thrush (#1 of 2) Sentinel Rock-thrush (#2 of 2) Sentinel Rock-thrush (#2 of 2) African Stonechat More
that Dark-capped Bulbuls have variable digestive assimilation efficiencies related to dietary nutrient density, particularly if there is a nutritional or digestive trade-off or constraint. It was also hypothesised, however, that the 74 Downs bulbuls would show preference for a nutrient-dense diet (mealworm) compared with a nutrient-dilute diet (apple) because of the nutritional benefits. More