Terrestrial Brownbul
The Terrestrial Brownbul is a species of songbird in the Pycnonotidae family. It is found in Angola, Botswana, Democratic Republic of the Congo, Kenya, Malawi, Mozambique, Namibia, Somalia, South Africa, Swaziland, Tanzania, Zambia, and Zimbabwe. Its natural habitats are subtropical or tropical dry forests, subtropical or tropical moist lowland forests, and subtropical or tropical moist shrubland.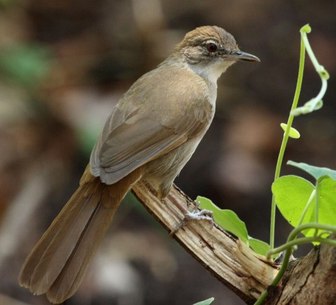 Picture of the Terrestrial Brownbul has been licensed under a
GFDL
Original source
: Alan MansonCamera location
Author
: Alan MansonCamera location
Permission
: GNU Free Documentation License
The Terrestrial Brownbul is classified as Least Concern. Does not qualify for a more at risk category. Widespread and abundant taxa are included in this category.

The Terrestrial Brownbul (Phyllastrephus terrestris) is a species of songbird in the Pycnonotidae family. It is found in Angola, Botswana, Democratic Republic of the Congo, Kenya, Malawi, Mozambique, Namibia, Somalia, South Africa, Swaziland, Tanzania, Zambia, and Zimbabwe. Its natural habitats are subtropical or tropical dry forests, subtropical or tropical moist lowland forests, and subtropical or tropical moist shrubland. References - * BirdLife International 2004. Phyllastrephus terrestris. More
Distribution of Terrestrial brownbul in southern Africa, based on statistical smoothing of the records from first SA Bird Atlas Project (© Animal Demography unit, University of Cape Town; smoothing by Birgit Erni and Francesca Little). Colours range from dark blue (most common) through to yellow (least common). See here for the latest distribution from the SABAP2. Food It mainly eats arthropods, probing and overturning leaf litter in search of prey. More
bird on page 774 also a picture of the Terrestrial Brownbul on page 817. The Terrestrial Brownbul belongs to the family of birds classified as Pycnonotidae. According to the Percy FitzPatrick Institute of African Ornithology the Terrestrial Brownbul is also known by these other names: Brownbul, Bristle-necked Brownbul. In the previous edition of Roberts (ie 6th edition) the Terrestrial Brownbul was called the Terrestrial Bulbul The map of the Kruger you see on this page shows the areas (coloured orange) where this bird has been identified. More
The Terrestrial Brownbul (Phyllastrephus terrestris) is a species of songbird in the Pycnonotidae family. More
Terrestrial Brownbul Phyllastrephus terrestris = Described by: Swainson (1837) Alternate common name(s): Terrestial Bulbul, Bristle-necked Brownbul Old scientific name(s): None known by website authors Photographs Bona Manzi, KwaZulu-Natal, South Africa - May 13, 1994 More
Terrestrial Brownbul Phyllastrephus terrestris = Bona Manzi, KwaZulu-Natal, South Africa - May 13, 1994 More
Habitat: The Terrestrial Brownbul is at home in evergreen forests, woodlands, riverine bush and forests, dense thickets, and grasslands. General habits: You will normally see this bird in flocks. Because of its cryptic colouration, it is easier to locate and identfy by call, or somtimes by the noisy flicking of leaf litter when it is foraging. It is a territorial bird. Feeding habits: The Terrestrial Brownbul forages in small groups, on the ground and in the foliage. More
A Terrestrial Brownbul (ring number AA4334) was the highlight of the day being a re-trap with a ring not of A Rocha for Colin did not ring it and he has been ringing birds for years. We are yet to contact the original ringer of the bird and tell him the good news that his bird is still alive and we got to see it. More
Terrestrial Brownbul, Phyllastrephus terrestris Pycnonotidae (BULBULS) Terrestrial Brownbul, Phyllastrephus terrestris This photo was taken in: South Africa This photo was taken with: Canon EOS 10D Notes on this photo: Nelspruit, SA, 12-2004 The photo was taken by: Bob Hawkins , Birdwatching trip reports from around the world South Africa reports Reports from birdtours.co. More
Terrestrial Brownbul and Lemon Dove. Habitats The entire forest consists of beautiful climax coastal scarp forest. Facilities Self-guided trail, ablution, picnic tables and braai facilities, and a canopy boardwalk are to be found at the picnic site off Kangella Road. A hide from which Green Twinspot, Red-backed Mannikin and African Firefinch can be viewed during the summer months can be located by contacting the Zululand Birding Route co-ordinator. More
Terrestrial Brownbul Phyllastrephus terrestris Yellow-streaked Greenbul Phyllastrephus flavostriatus Tiny Greenbul Phyllastrephus debilis Sombre Greenbul Andropadus importunus Stripe-cheeked Greenbul Andropadus milanjenss Yellow-bellied Greenbul Chlorocichla flaviventris Eastern Nicator Nicator gularis More