Speke's Weaver
The eyes are pale and the bill is on the large side for a weaver. Unlike many weavers, it has the same plumage all year. The adult male is yellow with black throat , face, and bill, and variable black mottling on the back. The adult female's upperparts are dull olive-gray with dusky brown streaks; the underparts are pale yellow, whiter on the belly and grayer on the flanks. The juvenile is similar but duller.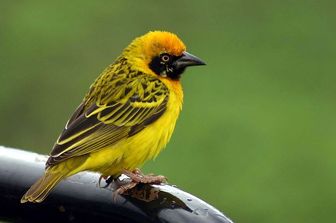 Picture of the Speke's Weaver has been licensed under a
GFDL
Original source
: Canon EOS with 300mm zoom lens
Author
: Charles J SharpPermission(Reusing this file)Photographed by the author
Permission
: GNU Free Documentation License
The Speke's Weaver is classified as Least Concern. Does not qualify for a more at risk category. Widespread and abundant taxa are included in this category.

Male Speke's Weaver in the Serengeti, Tanzania Village Weaver colony in The Gambia. The nests are the spherical suspended objects The Ploceidae, or weavers, are small passerine birds related to the finches. These are seed-eating birds with rounded conical bills, most of which breed in sub-Saharan Africa, with fewer species in tropical Asia and also in Australia. The weaver group is divided into the buffalo, sparrow, typical, and widow weavers. More
Speke's Weaver (Ploceus spekei) is a familiar East African songbird. In a tree Immature male, Serengeti NP, Tanzania The eyes are pale and the bill is on the large side for a weaver. Unlike many weavers, it has the same plumage all year. The adult male is yellow with black throat (edged rusty), face, and bill, and variable black mottling on the back. More
Speke's Weaver (Ploceus spekei) adult male in the Serengeti, Tanzania. Date: December 2004. Author: Charles J Sharp. Copyright (C) 2004 Charles J. Sharp Permission is granted to copy, distribute and/or modify this document under the terms of the GNU Free Documentation License, Version 1.2 or any later version published by the Free Software Foundation; with no Invariant Sections, no Front-Cover Texts, and no Back-Cover Texts. A copy of the license is included in the section entitled "GNU Free Documentation License". More
For the purposes of our bird news services, Speke's Weaver is classed as ungraded: species which are unlikely to appear as wild birds in Britain or Ireland (Note that rarity levels are currently applied nationally and may not reflect local variations in abundance. More
profile of a Speke's Weaver perching on a tree branch(Ploceus spekei)5410061Add Image to LightboxAdd Photo to CartRights Managed ImageCalculate Image Price4042-146Rock formations at the coast, Heritage Coast, Spekes Mill Mouth, Hartland Quay, North Devon, Devon, England3205599Add Image to LightboxAdd Photo to CartRights Managed ImageCalculate Image Price1801-28775MARKS AND SPENCER STORE, SPEKE, LIVERPOOL, MERSEYSIDE, UNITED KINGDOM, CHILDREN'S DEPARTMENT, URBAN SALON ARCHITECTS5410063Add Image to LightboxAdd Photo to CartRights Managed ImageCalculate Image Price4042-148Rock formations at the coast, Heritage Coast, Spekes Mill Mouth, Hartland Quay, North Devon, Devon, England5005060Add Image to LightboxAdd Photo to More