Thick-billed Weaver
It is found in Angola, Benin, Botswana, Burundi, Cameroon, Central African Republic, Republic of the Congo, Democratic Republic of the Congo, Ivory Coast, Equatorial Guinea, Ethiopia, Gabon, Ghana, Guinea, Kenya, Liberia, Malawi, Mozambique, Namibia, Nigeria, Rwanda, Senegal, Sierra Leone, Somalia, South Africa, Sudan, Swaziland, Tanzania, Togo, Uganda, Zambia, and Zimbabwe.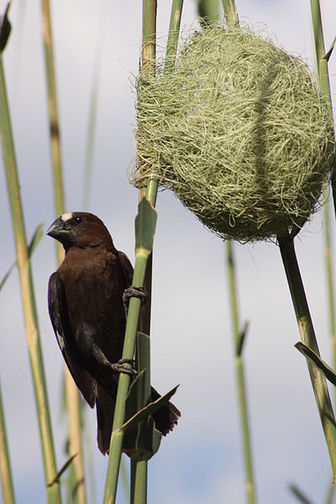 Picture of the Thick-billed Weaver has been licensed under a Creative Commons
Attribution-Share Alike
.
Original source
: derekkeats
Author
: derekkeats
The Thick-billed Weaver is classified as Least Concern. Does not qualify for a more at risk category. Widespread and abundant taxa are included in this category.

The Thick-billed Weaver was first described in 1831 by Vigors from a specimen from the vicinity of Algoa Bay, E Cape. The first illustration of this species was by Swainson (1838) who provided a line drawing of the head of a Thick-billed Weaver, showing the very large bill. Soon after this, George Henry Ford painted the species for Andrew Smith (1840). More
Distribution of Thick-billed weaver in southern Africa, based on statistical smoothing of the records from first SA Bird Atlas Project (© Animal Demography unit, University of Cape Town; smoothing by Birgit Erni and Francesca Little). Colours range from dark blue (most common) through to yellow (least common). See here for the latest distribution from the SABAP2. Predators and parasites It has been recorded as prey of African goshawk (Accipiter tachiro). More
the present study revealed that Thick-billed Weavers were the most efficient foragers (i.e. had the lowest giving-up densities on seeds in feeding trays).ABSTRACT FROM AUTHORCopyright of Ostrich: The Journal of African Ornithology is the property of NISC Pty Ltd (National Inquiry Services Centre) and its content may not be copied or emailed to multiple sites or posted to a listserv without the copyright holder's express written permission. However, users may print, download, or email articles for individual use. This abstract may be abridged. More
Thick-billed Weavers had significantly lower giving-up densities for all seed types except the smallest, namely red manna. Bronze Mannikins showed the converse trend, foraging most efficiently on the smallest seeds. The results of the present study revealed that Thick-billed Weavers were the most efficient foragers (i.e. had the lowest giving-up densities on seeds in feeding trays). More
also a picture of the Thick-billed Weaver on page 1009. The Thick-billed Weaver belongs to the family of birds classified as Ploceidae. According to the Percy FitzPatrick Institute of African Ornithology the Thick-billed Weaver is also known by these other names: Grosbeak Weaver, White-fronted Grosbeak. In the previous edition of Roberts (ie 6th edition) the Thick-billed Weaver was called the The map of the Kruger you see on this page shows the areas (coloured orange) where this bird has been identified. More
* Male Thick-billed Weaver at Nest 05 Male Thick-billed Weaver at Ne... * Male Thick-billed Weaver at Nest Male Thick-billed Weaver at Ne... * Male Thick-billed Weaver at Nest 04 Male Thick-billed Weaver at Ne... * Male Thick-billed Weaver at Nest 03 Male Thick-billed Weaver at Ne... More
* Male Thick-billed Weaver at Nest 12 Male Thick-billed Weaver at Ne... View All Community Search Results ▶ Advertisement Random Links: * Camera full? Upload now! * Photo gifts are awesome. * Download FREE screensavers * Download FREE wallpaper! * What's up? Read the blog. More