New Zealand Robin
The male's plumage is a dark slate grey whereas the female is dark grey-brown. On both birds the throat and belly are considerably lighter, in the male a cream colour. It is this bright breast that gave the birds their name, in comparison with the bright breast of the European Robin. The birds generally inhabit the forest fringe, and can often be found in the green belts of towns and cities.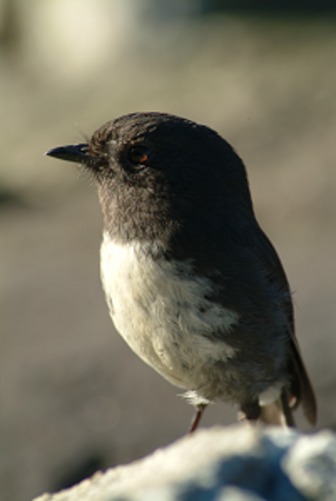 Picture of the New Zealand Robin has been licensed under a
GFDL
Original source
: http://en.wikipedia.org/wiki/Image:Petroica_australis.png
Author
: Thomas Mattern - Department of Zoology, University of Otago, Dunedin, New ZealandPermission(Reusing this file)Permission is granted to copy, distribute and/or modify this document under the terms of the GNU Free Documentation License, Version 1.2 or any later version published by the Free Software Foundation; with no Invariant Sections, no Front-Cover Texts, and no Back-Cover Texts. A copy of the license is included in the section entitled GNU Free Documentation License.www.gnu.org/copyleft/fdl.htmlGFDLGNU Free Documentation Licensetruetrue
Permission
: GNU Free Documentation License
The New Zealand Robin is classified as Least Concern. Does not qualify for a more at risk category. Widespread and abundant taxa are included in this category.

The New Zealand robin and the North American robin look fairly similar to the female European robin, and all these robins are brown in colour. The North American robin is not to be confused with the American robin which is actually a member of the thrush family rather than being a species of robin. The American robin is named after the European robin due to it's brightly coloured orange chest. More
once considered a subspecies of the New Zealand Robin of South and Stewart Islands, but mitochondrial DNA sequences have shown that the two lineages split prior to the Pleistocene and supported the split into two species. The North Island Robin is distributed mostly in the centre of North Island, with small relic populations in the north and south in Moturua Island in the Bay of Islands, Little Barrier Island and Kapiti Island. Populations have been reestablished in Karori Wildlife Sanctuary and Matiu/Somes Island in Wellington. More
The New Zealand Robin or Toutouwai (Māori), Petroica australis, is a sparrow-sized bird found only in New Zealand, where it has the status of a protected endemic species. The birds are sparsely distributed through South Island and Stewart Island/Rakiura, although the distribution is not continuous. The South Island Robin (Petroica australis australis), and the Stewart Island Robin (Petroica australis rakiura) are today accepted as subspecies. More
New Zealand Robin, Petroica australis Petroicidae (AUSTRALASIAN ROBINS) New Zealand Robin, Petroica australis This photo was taken in: New Zealand Notes on this photo: Female, one of a very tame pair! Fiordland (NZ), Nov 2005 The photo was taken by: Georges Olioso Birdtours.co. More
Despite the name, the New Zealand robin is unrelated to the European and American red-breasted robin. However, its curious and friendly nature is similar and was what lead European settlers in New Zealand to give the robin its common name. The North Island robin is about 18 cm from beak to tail, which is smaller than a starling and larger than a house sparrow. They have long, thin, black legs which they stand very upright on, and long toes to grasp branches. More