Dead Sea Sparrow
It is a small 12–13 cm long sparrow which breeds in dry lowlands with some shrubs, including tamarisk, and access to water. It builds a nest in a tree, and 4-7 eggs are laid.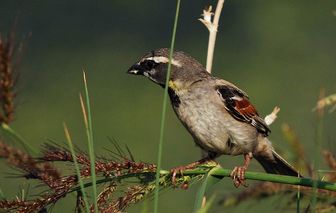 Picture of the Dead Sea Sparrow has been licensed under a
GFDL
Original source
: Dûrzan cîrano
Author
: Dûrzan cîrano
Permission
: GNU Free Documentation License
The Dead Sea Sparrow is classified as Least Concern. Does not qualify for a more at risk category. Widespread and abundant taxa are included in this category.

The Dead Sea Sparrow (Passer moabiticus), as its name suggests, is a breeding bird around the River Jordan, Dead Sea, and into Iraq, Iran and western Afghanistan. Breeding recorded in Cyprus (1981/1982) but is probably extinct there now. It is migratory or dispersive, although the regular wintering grounds of this nomadic species are largely unknown, except that the eastern race winters in Pakistan. Flocks of the nominate western race have been found in winter further south in the Middle East. More
Dead Sea Sparrow is among the species regularly ringed and studied at the International Birding and Research Centre in Eilat (Israel). 3.3Average: 3.3 (3 votes) Your rating: None Voting is for registered members only. Please login or create a new account. More
Note: This subspecies of Dead Sea Sparrow is not known to occur in the Oriental Region. Normally, it is not the policy of OBI to include such extralimital subspecies, but since the chances of obtaining images of the "correct" subspecies yatii are very slim, an exception has been made in this case. The breeding male of yatii is described as having a yellow wash on the underparts, strongest on the breast and flanks, and paler more sandy-brown upperparts. More
The male Dead Sea Sparrow has a grey crown, rear neck and cheeks, and a small black bib. It has a pale supercilium shading to buff at the rear, and yellow neck sides. The upperparts are dark-streaked reddish brown, and the underpants are grey-white. The female is like a small House Sparrow, with a streaked brown back, greyish head and buff-white underpants. She is paler and smaller billed than her relative, and sometimes shows yellow on the neck sides. More
Plain-backed Sparrow or Pegu Sparrow • Dead Sea Sparrow • Great Sparrow • Socotra Sparrow • Kenya Sparrow • Kordofan Sparrow • Shelley's Sparrow • Iago Sparrow • Cape Sparrow • Grey-headed Sparrow • Swainson's Sparrow • Parrot-billed Sparrow • Swahili Sparrow • Southern Grey-headed Sparrow • Desert Sparrow • Eurasian Tree Sparrow • Sudan Golden Sparrow • Arabian Golden Sparrow • Chestnut Sparrow Petronia (rock sparrows) Yellow-spotted Petronia • Yellow-throated Sparrow • Yellow-throated Petronia • Bush Petronia • Rock Sparrow More
For the purposes of our bird news services, Dead Sea Sparrow is classed as ungraded: species which are unlikely to appear as wild birds in Britain or Ireland (Note that rarity levels are currently applied nationally and may not reflect local variations in abundance. More
Rezultati za: dead sea sparrowPrijevodi 1 - 30 of 200 Engleski Engleski Finski Finski dead sea sparrow tamariskivarpunen, Passer moabiticus sparrow varpunen fox sparrow kettusirkku, Passerella iliaca go dead puutua dead end umpikuja dead against täysin vastaan dead vainaja, edesmennyt, maapotentiaali More
Dead Sea Sparrow in Tatzpit Dead Sea Sparrow - Dead Sea Sparrow, Tyrkey, Birecik 03051999 © Lasse Patrick Simensen Dead Sea Sparrow - Dead Sea Sparrow, Tyrkey, Birecik May, 1999 © Lasse Patrick Simensen Photo taken by Magne "Pedro" Pettersen Dead Sea Sparrow - Dead Sea Sparrow, Turkey, Birecik 27-05-2009 © Bodor G�bor Video Dead Sea More
Dead Sea Sparrow print that page - * Associated categories PasserMoabiticusWolf_(cropped) The Dead Sea Sparrow ( Passer moabiticus ), as its name suggests, is a breeding bird around the River Jordan , Dead Sea , and into Iraq , Iran and western Afghanistan . Breeding recorded in Cyprus (1981/1982) but is probably extinct t Last Modification 2010/5/4 8:39:57http://en.wikipedia. More