Grey-headed Sparrow
This sparrow is mainly resident in its range, but there is some seasonal movement, and flocks of up to 50 birds form outside the breeding season.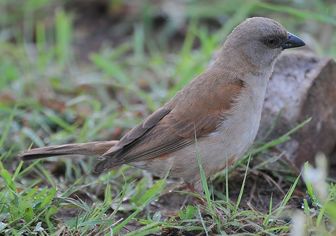 Picture of the Grey-headed Sparrow has been licensed under a Creative Commons
Attribution
.
Original source
: DSC_1031.JPG
Author
: Louis Dewame
The Grey-headed Sparrow is classified as Least Concern. Does not qualify for a more at risk category. Widespread and abundant taxa are included in this category.

Grey-headed Sparrow | Martin 2007» thumbnail | full | big_thumbnail | original | printer friendly version Post new comment - Your name: * E-mail: *The content of this field is kept private and will not be shown publicly. More
The Grey-headed Sparrow (Passer griseus) is a resident breeding bird species in much of tropical Africa. It occurs in a wide range of open habitats, including open woodlands and human habitation, and it is, in effect, the African House Sparrow. This sparrow is mainly resident in its range, but there is some seasonal movement, and flocks of up to 50 birds form outside the breeding season. More
The Southern Grey-headed Sparrow (Passer diffusus) is sometimes treated as a race of the Grey-headed Sparrow (Passer griseus). Found in savanna and woodland in Angola and Zambia down to South Africa. References - Search Wikimedia Commons Wikimedia Commons has media related to: Passer diffusus * BirdLife International (2004). Passer diffusus. 2006. IUCN Red List of Threatened Species. IUCN 2006. www.iucnredlist.org. More
population of grey-headed sparrows was split into five groups by a pluvial period in Pleistocene; as climate became drier, these five then spread and again came into contact with one another, but by then had become sufficiently distinct to remain separate, partly through minor habitat preferences and morpholog.. View all taxonomy...Taxonomy: Pyrgita diffusa A. Smith,1836. "North of the Orange river" = near Kuruman, Cape Province, South Africa. Forms a superspecies with P. griseus, P. swainsonii, P. gongonensis and P. More
The Grey-headed Sparrow is replaced in eastern and southern Africa by very similar birds that are sometimes considered races of this species: Swainson's Sparrow, the Parrot-billed Sparrow, the Swahili Sparrow, and the Southern Grey-headed Sparrow. http://en.wikipedia.org/wiki/Grey-headed_Sparrow The text in this page is based on the copyrighted Wikipedia article shown in above URL. It is used under the GNU Free Documentation License. You may redistribute it, verbatim or modified, providing that you comply with the terms of the GFDL. More
Distribution of Southern grey-headed sparrow in southern Africa, based on statistical smoothing of the records from first SA Bird Atlas Project (© Animal Demography unit, University of Cape Town; smoothing by Birgit Erni and Francesca Little). Colours range from dark blue (most common) through to yellow (least common). See here for the latest distribution from the SABAP2. More
For the purposes of our bird news services, Grey-headed Sparrow is classed as ungraded: species which are unlikely to appear as wild birds in Britain or Ireland (Note that rarity levels are currently applied nationally and may not reflect local variations in abundance. More
The Southern Grey-headed Sparrow inhabits a variety of habitats, from dry acacia savannah to woodland and farmlands. It is generally less common in the dry western areas than the Cape Sparrow, and is not as common in the urban areas, but does occur in gardens in some towns and cities. It is usually seen in pairs or small parties, it has a shuffling walk rather than a hop. It eats seeds, and also takes insects. More
Grey-headed Sparrow | Martin 2007» add new comment Syndicate content what is birdman seeing? - Twitter Updates - follow me on Twitter topics - Wildlife Gardening Site reports ITCZ Safari Raptors Ecological Survival Decline of Gyps Vultures migration Birding wintering birds Climate Larks places - Pemba Tanzania Expanding Eremic Zone Angyata Osugat More
This is one of four distinct species of Grey-headed Sparrows found in Kenya. Some authorities treat them as subspecies of Passer griseus. It is a ground feeder whose diet primarily consists of seeds but it will also take insects as well as some scraps from bird tables. Although it is a common sight on bird tables in and around lodges, it tends to be less confiding than other Grey-headed Sparrows. More
The Southern Grey-headed Sparrow (Latin name Passer diffusus) is described in Roberts Birds of Southern Africa, 7th Edition. This bird has a unique Roberts number of 804 and you will find a full description of this bird on page 1086 also a picture of the Southern Grey-headed Sparrow on page 1009. The Southern Grey-headed Sparrow belongs to the family of birds classified as Passeridae. More
The adult Grey-headed Sparrow has a pale grey head with a white moustache stripe, pale brown upperparts, whitish underparts and chestnut wings with a small white shoulder patch. The sexes are similar, but young birds are slightly duller and lack the white wing patch. There are three subspecies, differing in plumage tone, especially with regard to the darkness of the head. More