Tennessee Warbler
The Tennessee Warbler, Vermivora peregrina, is a New World warbler. It breeds in northern North America across Canada and the northern USA. It is migratory, wintering in southern Central America and northern Colombia and Venezuela, with a few stragglers going as far south as Ecuador. It is a very rare vagrant to western Europe. This bird was named from a specimen collected in Tennessee where it may appear during migration.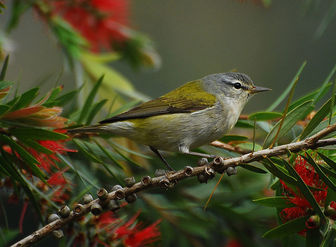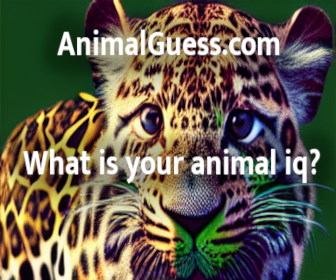 Picture of the Tennessee Warbler has been licensed under a Creative Commons
Attribution-Share Alike
.
Original source
: originally posted to Flickr as DSC_5085a.jpg
Author
: Jerry OldenettelPermission(Reusing this file)This image, which was originally posted to Flickr.com, was uploaded to Commons using Flickr upload bot on 23:45, 13 April 2008 (UTC) by Ltshears (talk). On that date it was licensed under the license below. This file is licensed under the Creative Commons Attribution-Share Alike 2.0 Generic license.You are free:to share – to copy, distribute and transmit the work
The Tennessee Warbler is classified as Least Concern. Does not qualify for a more at risk category. Widespread and abundant taxa are included in this category.

The Tennessee Warbler, Vermivora peregrina, is a New World warbler. It breeds in northern North America across Canada and the northern USA. It is migratory, wintering in southern Central America and northern Colombia and Venezuela, with a few stragglers going as far south as Ecuador. It is a very rare vagrant to western Europe. This bird was named from a specimen collected in Tennessee where it may appear during migration. The Tennessee Warbler is 11.5 cm long and weighs 8.5 g. More
Tennessee Warblers nest on the ground, laying 4-7 eggs in a cup nest. Footnotes - 1. ^ E.g. of Gumbo-limbo (Bursera simaruba): Foster (2007) References - * BirdLife International (2004). Vermivora peregrina. 2006. IUCN Red List of Threatened Species. IUCN 2006. www.iucnredlist.org. Retrieved on 9 May 2006. More
Tennessee Warbler Range MapView dynamic map of eBird sightings Field MarksHelp - * Male breedingPopOutZoom In Male breeding * © 2004 Cornell Lab of Ornithology, Point Pelee, Ontario, Canada, May 2000 * FemalePopOutZoom In Female * © 2004 Cornell Lab More
The Tennessee Warbler is yellow-olive above, darker head almost gray, cream colored underparts fading to white behind, a pale yellow line over the eye, dark brown bill and a little paler below, and wings without bands. The female is similar to the male except the head is less gray and the underparts are slightly yellowish. This bird is anywhere from 4 1/2 - 5" in length with a wingspan of 7 1/2 - 8". More
Some adult Tennessee warblers appear south of the breeding grounds as early as mid-July. This long-distance traveler is restless enough to regularly leave the breeding grounds before completing molt, showing an exceptional tendency to molt and migrate simultaneously. This is unusual, especially for warblers, as most birds replace worn feathers in the late summer before departing on migration. Growing new feathers for molt requires substantial food energy, as does migration, so most bird species separate these activities temporally. More
The Tennessee Warbler (Vermivora peregrina) is a great example of a "Neotropical migrant": a bird that breeds in North America and winters in the tropics. They can be common to abundant during migration over a wide swath of the continent (including Tennessee, where it was discovered, resulting in the rather inappropriate name). More
The Tennessee Warbler has a large range, estimated globally at 4,800,000 square kilometers. Native to the Americas and nearby island nations, this bird prefers shrubland or forest ecosystems, though it can reside on plantations. The global population of this bird is estimated at 62,000,000 individuals and does not show signs of decline that would necessitate inclusion on the IUCN Red List. For this reason, the current evaluation status of the Tennessee Warbler is Least Concern. More
* Tennessee Warbler Species Account - Cornell Lab of Ornithology * Tennessee Warbler - Vermivora peregrina - USGS Patuxent Bird Identification InfoCenter * Tennessee Warbler Information and Photos - South Dakota Birds and Birding Copyright: Wikipedia. This article is licensed under the GNU Free Documentation License. It uses material from Wikipedia. More
Tennessee Warblers nest on the ground, laying 4-7 eggs in a cup nest. More
accepted Washington records have occurred, the Tennessee Warbler is a plain yellowish-green bird with a light eyebrow and a thin, dark line through the eye and can easily be confused with its close relative, the Orange-crowned Warbler—an abundant migrant and summer resident in the state. The most obvious differences are the Tennessee's shorter tail and white or near-white undertail coverts that contrast with the grayish or greenish breast, and the absence of the Orange-crowned's streaking on the underparts. More
Tennessee Warbler 10 - Galveston Co, TX - April Tennessee Warbler 11 - Galveston Co, TX - April Tennessee Warbler 12 - Galveston Co, TX - April Tennessee Warbler 13 - Galveston Co, TX - April Tennessee Warbler 14 - Galveston Co, TX - April Tennessee Warbler 15 - Galveston Co, TX - April Tennessee Warbler 8 - Galveston Co, TX - April Tennessee Warbler 9 - Galveston Co, TX - April Tennessee More
Tennessee warblers are a special thrill for Minnesota birders. Upon spotting one of these drab little warblers, or more likely hearing its distinctive staccato three-note song (ticka ticka ticka, swit swit, sit-sit-sit-sit-sit-sit-sit), astute birders have cause to toast the addition to their life lists. Under normal conditions, a birder can go years without seeing a Tennessee warbler during the June-to-July breeding season. More
Tennessee Warbler - Vermivora peregrinaThe Tennessee Warbler is a fairly plain warbler, common as a migrant through the state. Despite the name, the Tennessee Warbler is only found briefly in that state during migration. It was named by Alexander Wilson, who first found the species in the state of Tennessee in 1832. Populations of Tennessee Warblers often fluctuate wildly, following cycles of high and low spruce budworm populations. More
Tennessee Warblers breed in deciduous, mixed, and coniferous forests from near sea level to 450 meters. This species is associated with open areas that contain grasses, dense shrubs, and scattered clumps of young deciduous trees. Numbers of transients and breeders fluctuate markedly from year to year, often in response to periodic outbreaks of spruce budworm caterpillars, on which the species is a well-documented specialist. More
As with all warblers, the Tennessee Warbler is a migratory bird with their migratory route being from Mexico to Mississippi Valley and then reaching the northern states to Canada. In Autumn, this bird can be confused with the Orange-crowned Warbler and also the Warbling Vireo. More