Flame-throated Warbler
This species is a resident breeder with a range restricted to the mountains of Costa Rica and western Panama, where it occurs in the canopy, woodland edges, and clearings with trees typically from 2100 m up to the timberline. On the Caribbean slope in the wet season it may occur down to as low as 1400 m.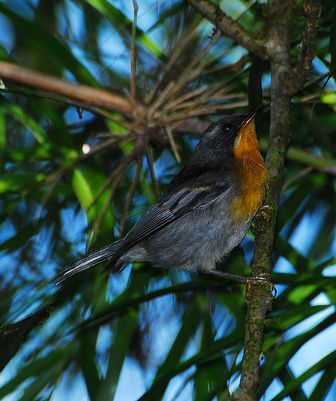 Picture of the Flame-throated Warbler has been licensed under a Creative Commons
Attribution-Share Alike
.
Original source
: originally posted to Flickr as DSC_5243a.jpg
Author
: Jerry OldenettelPermission(Reusing this file)This image, which was originally posted to Flickr.com, was uploaded to Commons using Flickr upload bot on 23:37, 13 April 2008 (UTC) by Ltshears (talk). On that date it was licensed under the license below. This file is licensed under the Creative Commons Attribution-Share Alike 2.0 Generic license.You are free:to share – to copy, distribute and transmit the work
The Flame-throated Warbler is classified as Least Concern. Does not qualify for a more at risk category. Widespread and abundant taxa are included in this category.

The Flame-throated Warbler, Parula gutturalis, is a small New World warbler. It is sometimes placed in the genus Vermivora. Life history - This species is a resident breeder with a range restricted to the mountains of Costa Rica and western Panama, where it occurs in the canopy, woodland edges, and clearings with trees typically from 2100 m up to the timberline. More
Flame-throated Warblers, Parula gutturalis = Warblers Flame-throated Warbler The Flame-throated Warbler, Parula gutturalis, is a small New World warbler. It is sometimes placed in the genus Vermivora. More
Flame-throated Warbler, Parula gutturalis (Passeriformes: Parulidae) Flame-throated Warbler Aves > Passeriformes > Parulidae Parula gutturalis (Cabanis, 1861) Image Number: 5383768 - Add to Light Box - For Batch Downloading and Commercial Usage Requests * PowerPoint - 768x512 * Small Print - 1536x1024 Creative Commons License This work More
Flame-throated Warbler Parula gutturalis = Savegre Highlands, Costa Rica - Nov, 2006 More
Flame-throated Warbler Parula gutturalis = Described by: Cabanis (1861) Alternate common name(s): Irazu Warbler Old scientific name(s): Vermivora gutturalis Photographs Savegre Highlands, Costa Rica - Nov, 2006 More
The Flame-throated Warbler feeds on caterpillars, insects and spiders picked off the foliage with its sharp pointed bill. It is territorial when breeding, but will join feeding flocks of insectivorous birds at other times. The deep cup nest, always sheltered above by epiphytes or mosses, is built in a tree or on a low bank. Two white eggs are laid between March and May. The call of this warbler is a sharp chit. The song is a buzzing pi pipipipi shwaaaa. More