Masked Yellowthroat
The breeding habitat is marshes and other wet areas with dense low vegetation. The Masked Yellowthroat may also be found in other areas with dense shrub, but is less common in drier habitats. Two white eggs with reddish-brown markings are laid in a lined cup nest low in grass or rank vegetation.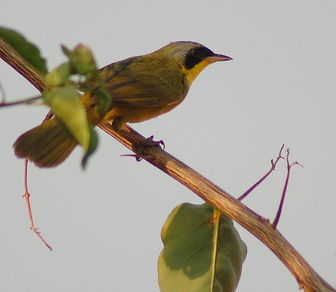 Picture of the Masked Yellowthroat has been licensed under a Creative Commons
Attribution-Share Alike
.
Original source
: PIA-COBRA (Geothlypis aequinoctialis)
Author
: Dario Sanches from SÃO PAULO, BRASIL
The Masked Yellowthroat is classified as Least Concern. Does not qualify for a more at risk category. Widespread and abundant taxa are included in this category.

Masked Yellowthroat (Geothlypis aequinoctialis) (Gmelin, JF, 1789) summary taxon grid map Wikipedia NatureServe Google: Web|Scholar ITIS Birdlife Google|Flickr Xeno-Canto - photo: barloventomagico Photo powered by flickr.com. More
The Masked Yellowthroat, Geothlypis aequinoctialis, is a New World warbler. It has a number of separate resident breeding populations in Central and South America, some of which may be considered to form separate species. The breeding habitat is marshes and other wet areas with dense low vegetation. The Masked Yellowthroat may also be found in other areas with dense shrub, but is less common in drier habitats. More
America, but the Masked Yellowthroat has an extensive South American distribution, and Common Yellowthroat, the only migratory species in the group, breeds over much of North America. All the yellowthroats have similar plumage, with yellow-green upperparts, yellow breast, and a mainly black bill. The adult male has a black facemask of variable extent, usually bordered above with a grey band. The female is similar, but lacks the black mask, and may be duller in plumage. More
* masked Yellowthroat, Geothlypis aequinoctialis * olive-crowned yellowthroat, Geothlypis semiflava Retrieved from "http://en.wiktionary. More
Masked Yellowthroat Geothlypis aequinoctialis = Described by: Gmelin (1789) Alternate common name(s): Chiriqui Yellowthroat, Black-lored Yellowthroat Old scientific name(s): None known by website authors Photographs Linhares, Esp More
"I knew that the field guide says that Masked Yellowthroat is known ONLY from the San Vito area between 900 - 1200m," Paco wrote. "So, at first I was reserved, but when I got such great views, I was convinced. It was an adult male with solid yellow underparts, the forehead had a grayish blue band that separated the olive green crown from the black mask, which extended quite far back and ended with a little curve at the neck. More
Conversely Masked Yellowthroat can be split to three or even four species. The geographical isolation of the various populations of this mainly sedentary group has led to its genetic divergence and speciation. This process can be seen in action in the case of Masked Yellowthroat, where the subspecies are separated by rainforest or the Andes, leading to the development of distinctive forms, such as the Central American race Geothlypis aequinoctialis chiriquensis. More
Masked Yellowthroat, Geothlypis aequinoctialis - MaleMasked Yellowthroats = Warblers The Masked Yellowthroat, Geothlypis aequinoctialis, is a New World warbler. Range / Distribution It has a number of separate resident breeding populations in Central and South America, some of which may be considered to form separate species. This species may be spreading in Central America due to deforestation. More
* Masked Yellowthroat, Geothlypis aequinoctialis * Gray-crowned Yellowthroat, Geothlypis poliocephala: Found in Belize, Costa Rica, El Salvador, Guatemala, Honduras, Mexico, Nicaragua, Panama, and the United States. Its natural habitats are subtropical or tropical moist shrubland and heavily degraded former forest. * Hooded Yellowthroat, Geothlypis nelsoni: It is endemic to Mexico. More
png Search for photos of Masked Yellowthroat in the BirdForum Gallery Retrieved from "http://www.birdforum.net/opus/Masked_Yellowthroat" Categories: Birds | Geothlypis | Bird Songs Advertisement * This page was last modified 19:16, 6 January 2010. * This page has been accessed 2,982 times. * Privacy policy * About Opus * Disclaimers Search the net with ask. More
Masked Yellowthroat Geothlypis aequinoctialis = * Home Expand Log in Menu item Register Menu item Log out Menu item Change login details Menu item Why register? Expand UK & Ireland Menu item Birding sites More
MASKED YELLOWTHROAT Geothlypis aequinoctialis The most southerly representative of the Yellowthroats, a group of confusingly similar, yellow-bellied marsh warblers that reach their greatest diversity in Mexico. There is no problem in identifying them in Paraguay though, the bright yellow underparts and long tail are unique amongst the small marsh birds here. More
Masked Yellowthroat Geothlypis aequinoctialis = Linhares, Esp More
Masked Yellowthroat - Geothlypis aequinoctialis - Pia-cobra = Masked Yellowthroat Next in Series - Prior - Series Home Top All contents Copyright More
Masked Yellowthroat - Geothlypis aequinoctialis Paruline équatoriale = Paruline équatoriale Le guide ornitho : Les 848 espèces d'Europe en 4000 dessins Gallery : © Hervé Michel Site web : oiseaux-nature. More
Masked Yellowthroat (Geothlypis aequinoctialis) by Jan-Hein Ribot. More
species overview :: Masked Yellowthroat (Geothlypis aequinoctialis) = Nr. More
Masked YellowthroatBirds in Suriname = - Masked Yellowthroat, Suriname Beautiful photos of a male (above) and a female masked yellowthroat, made by Foek Chin Joe in the north of Paramaribo in May 2005. And below two photos of a male in June 2007 also in Paramaribo, made by Erik Toorman. And the last picture is a male by Alexandre Renaudier, made in French Guiana, Awala-Yalimapo, in 2005. More