Townsend's warbler
These birds have a yellow face with a black stripe across their cheeks, a thin pointed bill, white wing bars, olive upperparts with black streaks on their backs and flanks, and a white belly. Adult males have a black cap, black throat and yellow lower breast; females have a dark cap and a yellow throat. Immature birds are similar to females with a dark green cap and cheeks.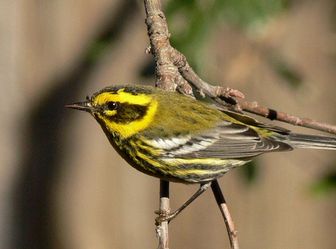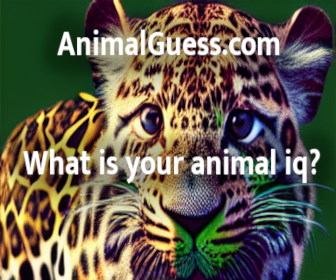 Picture of the Townsend's warbler has been licensed under a Creative Commons
Attribution
.
Original source
: Townsend's Warbler on Flickr
Author
: SlodocentPermission(Reusing this file)Creative Commons Attribution 2.0
The Townsend's warbler is classified as Least Concern. Does not qualify for a more at risk category. Widespread and abundant taxa are included in this category.

Townsend's Warbler (Dendroica townsendi), The Birds of North America Online (A. Poole, Ed.). Ithaca: Cornell Lab of Ornithology; Retrieved from the Birds of North America Online: http://bna.birds.cornell.edu/bna/species/333 doi:10.2173/bna. More
The Townsend's Warbler, Dendroica townsendi, is a small songbird of the New World warbler family. These birds have a yellow face with a black stripe across their cheeks, a thin pointed bill, white wing bars, olive upperparts with black streaks on their backs and flanks, and a white belly. Adult males have a black cap, black throat and yellow lower breast; females have a dark cap and a yellow throat. Immature birds are similar to females with a dark green cap and cheeks. More
The Townsend's Warbler has a large range, estimated globally at 1,400,000 square kilometers. Native to the Americas, this bird prefers subtropical, temperate, or tropical forest ecosystems. The global population of this bird is estimated at 12,000,000 individuals and does not show signs of decline that would necessitate inclusion on the IUCN Red List. For this reason, the current evaluation status of Townsend's Warbler is Least Concern. More
A bird of the Pacific Northwest, the Townsend's Warbler nests in coniferous forests from Alaska to Oregon. It winters in two distinct areas: in a narrow strip along the Pacific Coast, and in Mexico and Central America. More
Townsend's Warbler at Redwood National Park References - * BirdLife International (2004). Dendroica townsendi. 2006. IUCN Red List of Threatened Species. IUCN 2006. www.iucnredlist.org. Retrieved on 10 May 2006. More
Townsend's Warblers wintering in Central American cloud forests feed on honeydew, a sugary liquid excreted by insects. Vocalization of Townsend's Warbler temporarily unavailable during the move to our new building. Please check back in April 2003. Strikingly arrayed in black, yellow, white, and olive-green, Townsend's Warblers are arguably among the most beautiful birds of western North America. In winter, they are relatively common and easily seen on the coasts of Oregon and especially California. More
Female Townsend's Warblers are lighter in color than the males. This one is looking for spiders on the gutter. More
Townsend's Warbler in a tree in the UCLA Botanical Garden. March 2005. This was probably just before they migrated northward. Male Townsend's Warbler in a tree in the UCLA Botanical Garden. More
Townsend's Warblers are primarily birds of coniferous forests, especially mature, dense stands of at least 20 acres. They are more common in the mountains, but also breed in some lowland areas. During winter, they can be found in deciduous forests as well. back to top Behavior - Outside of the breeding season, Townsend's Warblers can often be found in mixed flocks with chickadees, kinglets, and other warblers, or rarely in single-species flocks of Townsend's Warblers. More
Townsend's Warblers in relation to habitat characteristics in a mature boreal forest. Condor. vol 99, no 2. p. 271-281. * Matsuoka SM, Handel CM, Roby DD & Thomas DL. (1997). The relative importance of nesting and foraging sites in selection of breeding territories by Townsend's warblers. Auk. vol 114, no 4. p. 657-667. * Mizrahi DS & Wagner SJ. (1996). More
the region with Townsend's Warbler, with regular observations in the Sisters area, including Three Creek Lake, Trout Creek Swamp, and Jack Creek. REFERENCES: Adamus et al. 2001, Bent 1953a, Griscom and Sprunt 1979, Miller 1999, Shunk 2004. - MacGillivray's Warbler (Oporornis tolmiei) B/M RANGE: Breeds from southeastern Alaska, southwestern Yukon, northern British Columbia, southern Alberta, northwestern Saskatchewan, and southwestern South Dakota south, primarily in the mountains, to southern California, central Arizona, and southern New Mexico. More
Townsend's Warbler - Photo Copyright Ward Cameron 2003 - Click to view a larger image Townsend's Warbler - Photo Copyright Ward Cameron 2003 - Click to view a larger image Townsend's Warbler - Photo Copyright Ward Cameron 2003 - Click to view a larger image Townsend's Warbler - Photo Copyright Ward Cameron 2003 - Click to view a larger image Click on an image (if available) to see a larger version Site Directory = MountainNature Home Ward Cameron Ent. More
hybridize regularly with Townsend's Warbler (Jewett 1944; Morrison and Hardy 1983; Dunn and Garrett 1997; Rohwer and Wood 1998). Such hybrids are sometimes referred to as 'Heto Warblers' (Eckert 2001). There is at least one example of vagrancy by hybrids into eastern North America, a bird that reached Newfoundland (Mactavish 1996). A detailed study of birds from hybrid zones by Sievert Rohwer and Chris Wood (1998) indicates a high degree of individual variation, presumably reflecting different degrees backcrossing. More
very good numbers of Townsend's Warblers foraging quite low in bushes and shrubs, and sometimes even on the ground. Breeding: Non-breeder in South Dakota Song: Fast series of buzzy thin notes, variable but usually rising in tone. Migration: Neotropical migrant. Summers along in forests of the Pacific Northwest, western Canada, and southern Alaska. Primarily winters in Mexico and Central America, but some can be found near the U.S. Pacific coast. More
Townsend's Warblers are arguably among the most beautiful birds of western North America. In winter, they are relatively common and easily seen on the coasts of Oregon and especially California. Despite their familiarity, however, Townsend's Warblers remain something of a biological enigma, as many aspects of their behavior and population dynamics remain undescribed. Townsend's Warblers breed in mature coniferous and mixed forests. More
Townsend's WarblerIdentification The Townsend's Warbler (Dendroica townsendi) is, to say the least, one of the more striking winter birds seen in Big Sur. The yellow of its flanks, breast, and much of its head is the brightness of an egg yolk, and contrasts nicely with the mossy olive-green of its back. Like many Dendroica warblers, Townsend's Warblers show a flash of white in the rectrices (tail feathers). More
vues sclateria — 12 février 2007 — a Townsend's Warbler at the Sierra Chincua reserve in Michoacan, Mexico. sclateria — 12 février 2007 — a Townsend's Warbler at the Sierra Chincua reserve in Michoacan, Mexico. More