Rufous-capped Warbler
Rufous-capped Warblers generally reach a length of about 12.7 cm in length. They are plain-olive to olive-gray, with white underbellies, bright yellow chests and throats, and a distinctive facial pattern consisting of a rufous cap, a white eyebrow-line , a dark eye-line fading into a rufous cheek, and a white malar marking. The bill is rather stout for a warbler, the wings are round and stubby, and the tail is long, often raised at a high angle and flicked.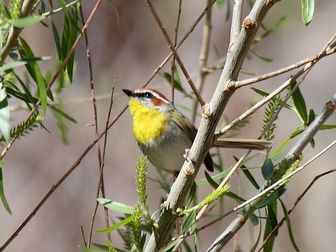 Picture of the Rufous-capped Warbler has been licensed under a Creative Commons
Attribution-Share Alike
.
Original source
: Rufous-capped Warbler Arizona
Author
: dominic sherony
The Rufous-capped Warbler is classified as Least Concern. Does not qualify for a more at risk category. Widespread and abundant taxa are included in this category.

The Rufous-capped Warbler (Basileuterus rufifrons) is a New World warbler native from Mexico south to much of Central America, rarely occurring as far north as southeastern Arizona and south Texas. Rufous-capped Warblers generally reach a length of about 12.7 cm (5 inches) in length. More
The Rufous-capped Warbler (Basileuterus rufifrons) is found through much of Central America, north through Mexico. This species is occasionally found in the southwestern U.S., when it creates a sensation among birders. Rcwa-fev This warbler is a common resident of shade coffee farms all year long, where it can be the dominant foliage-gleaning species. This is a foraging method where birds pick off insects from the upper and undersides of leaves. More
The Rufous-capped Warbler has a large range, estimated globally at 640,000 square kilometers. Native to Central America, Colombia, the United States, and Mexico, this bird prefers subtropical or tropical forest, grassland, or shrubland ecosystems. The global population of this bird is estimated to be 500,000 to 5,000,000 individuals and does not show signs of decline that would necessitate inclusion on the IUCN Red List. For this reason, the current evaluation status of the Rufous-capped Warbler is Least Concern. More
Rufous-capped Warbler, Sycamore Canyon CONTENTS TOURS & RATES WHO WE ARE BIRDING PHOTOGRAPHY LINKS HOME SE Arizona - California Gulch, Sycamore Canyon, & Kino Springs 25-26 Mar 2006 by Henry Detwiler Helga & Al, Suzanne & I, and the girls spent a weekend in Southeast Arizona to look for a few regional rarities & specialties 129 species - bird list is at the bottom of the page More
While Rufous-capped Warblers are generally birds of tropical shrubby highlands, North American sightings tend to be in oak woodland canyon bottoms, near running water, while the birds stay low in dense vegetation. The courtship song of the Rufous-capped Warbler is a rapid, accelerating series of chipping notes (chit-chit-chit-chitchitchit) somewhat reminiscent of the Rufous-crowned Sparrow, while the call notes is a hard chik or tsik, often repeated. Like other New World warblers, this species does not actually warble. More
Rufous-capped Warbler: Resident in tropical America; rare in southwest U.S. Preferred habitats include foothills and brushlands. Breeding and Nesting Rufous-capped Warbler: Two to four white eggs with red brown flecks and spotches are laid in a domed nest made of grass and plant fibers, lined with finer materials, and built on the side of a steep bank, rock, or log. Incubation ranges from 12 to 14 days and is carried out by both parents. More
The Rufous-capped Warbler would be a lifer for me too. I wish I could have been there. For all of you readers that don't know, Dawn is the master of getting bird bloggers together for these birding trips. If she is coming to your town, you definitely want to meet up with her and her wonderful hubby Jeff for a great time. More
The courtship song of the Rufous-capped Warbler is a rapid, accelerating series of chipping notes (chit-chit-chit-chitchitchit) somewhat reminiscent of the Rufous-crowned Sparrow, while the call notes is a hard chik or tsik, often repeated. Like other New World warblers, this species does not actually warble. Rufous-capped Warblers primarily feed on insects and spiders, foraging through dense brush and scanning close to the ground for movement. They are not generally known to fly-catch from perches. More
It's the Rufous-capped Warbler of the genus BASILEUTERUS. See one at http://www.siti.com.mx/musave.dir/htm.dir/1333.htm. Though the Wood-Warbler Subfamily, the Parulinae, is assumed to have arisen in North America, Basileuterus warblers are thought to have evolved in South America. In continental-drift terms, it's conjectured that before the Central America land bridge connected North and South America Basileuterus's ancestors passed from the warbler homeland in North America into South America and there evolved a bit before re-invading back northward through Central America. More
Rufous-capped warbler seen today at 11:16 a.m. MST. It was seen at the Florida Canyon above the dam working its way up steam crossing back and forth across the creek. It was traveling with a Ruby-crowned Kinglet and was seen by Kathie Brown and Jeff and Dawn Fine and 1 other couple. More photos and story to follow! All photos taken by Kathie Brown with the Nikon D80 set in sports mode and the 70-300mm lens. More
This Rufous-capped Warbler was discovered in Cave Creek Canyon in the Chiricahua Mountains on the 27 April 2004 by Dave Jasper and was photographed by Robert Shantz the same day. It was observed at South Fork, along the creek where the South Fork road makes its one crossing of the creek halfway to the road ending at the trailhead. This is about a half mile from where the first Rufous-capped Warbler for Arizona was found in 1977. More
The first attempted nesting of Rufous-capped Warbler in the U.S. was in 1977 in Cave Creek Canyon in the Chiricahua Mountains, a nest found with apparently infertile eggs laid (AB 31:1034), The most recent supplement to The Clements Handbook of the Birds of the World, Sixth Edition separates Rufous-capped Warbler into three groups, North Mexico Group, Salvin's Group, and Chestnut-capped Group. More
These Rufous-capped Warbler photos were taken by Henry Detwiler in March of 2006 in Sycamore Canyon, Santa Cruz County. Although, considered rare, sightings of this species have increased and it has been of almost annual occurrence since 1993. Many of the birds have stayed for extended periods allowing many birders to see them, and in 2004 a pair nested in Sycamore Canyon. A Rufous-capped Warbler, likely this same individual, has been reported in Sycamore Canyon since at least November of 2005. More
This Rufous-capped Warbler was photographed at the ProAves El Dorado Reserve, Sierra Nevada de Santa Marta, Department Magdalena, Colombia. Photo taken with a AF-S VR Zoom-Nikkor 70-300mm f/4.5-5.6G IF-ED lens (EFL=450mm) on a Nikon D200 camera. More
Rufous-capped Warblers in Florida Canyon in the Santa Rita Mountains on 10 March. A pair nested there in the summer of 2009. This is the northernmost member of the tropical warbler genus, Basileuterus. Basileuterus rufifrons is an ABA Code-3 species, now almost annual in Southeast Arizona. The Basileuterus warblers are stripe-headed, yellow-bellied, and olive-backed birds of the understory, all with light-colored feet. More
? Rufous-capped Warbler at Monte Alban, Oaxaca, Mexico,... Click to show "Rufous-capped Warbler" result 17 308 x 460 32 kb Rufous-capped Warbler South Fork of Cave Creek near... Click to show "Rufous-capped Warbler" result 18 500 x 345 20 kb Content & Design © www.utopianature. More
Rufous-capped Warbler and other pine forest species were abundant at the Barranca de Yécora in Mexico. Larry Arbanas Back in the United States, we searched the Chiricahua and Huachuca mountains for a diversity of hummingbirds such as the impressive Blue-throated and White-eared. The higher altitude pine forest brought us close to foraging flocks of Olive Warbler, Grace's Warbler, and migrant Townsend's and Hermit warbler. More