Green Figbird
Traditionally, all figbirds have been considered part of a single species, S. viridis, but all recent major authorities recognize three species, the Australasian Figbird , the Timor Figbird and the Wetar Figbird.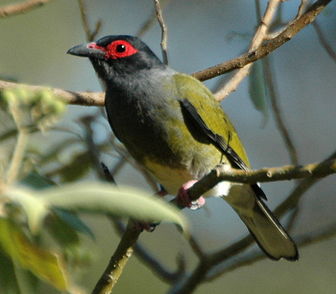 Picture of the Green Figbird has been licensed under a Creative Commons
Attribution-Share Alike
.
Original source
: Aviceda
Author
: Aviceda
The Green Figbird is classified as Least Concern. Does not qualify for a more at risk category. Widespread and abundant taxa are included in this category.

Green Figbird Sphecotheres viridis = Described by: Vieillot (1816) Alternate common name(s): Timor Figbird Old scientific name(s): None known by website authors Photographs Samsonvale, Queensland, Australia - Sep 6, 2002 More
Green Figbird Sphecotheres viridis = near Port Douglas, Queensland, Australia - Oct, 2003 More
Green Figbird - Sphecotheres viridis vieilloti Sphécothère de Vieillot = Sphécothère de Vieillot Le guide ornitho : Les 848 espèces d'Europe en 4000 dessins Gallery : © Patrick Ingremeau Site web : Impressions de Guyane Order : Passériformes Family : Oriolidae Species : Green Figbird Sex : Male Age : Immature Plumage : First year year Reference: pain38918 Other More
Green Figbird - Sphecotheres viridis vieilloti Sphécothère de Vieillot = Sphécothère de Vieillot Comment : Photo prise autour de la rainforest de Iluka, au nord-est de l'Etat de New South Wales. More
Green Figbird, Sphecotheres viridis Oriolidae (ORIOLES) Green Figbird, Sphecotheres viridis This photo was taken in: Australia This photo was taken with: Canon EOS 10D Notes on this photo: Darwin, Australia & Vicinity The photo was taken by: Bob Hawkins , Birdwatching trip reports from around the world Australia reports Birdwatching trip reports from Australia More
Figbird Green Figbird keychains Figbird Green Figbird Keychain by Daffybirds Figbird Green Figbird postage Figbird Green Figbird Postage Stamp by Daffybirds Figbird Green Figbird stickers Figbird Green Figbird Round Sticker by Daffybirds Figbird - Sphecotheres viridis t-shirts Figbird - Sphecotheres viridis Polo by LisasLair Figbird - Sphecotheres viridis t-shirts Figbird - Sphecotheres viridis Shirts by LisasLair Figbird - Sphecotheres viridis mousepads Figbird - Sphecotheres More