Hodgson's Bushchat
Hodgson's Bushchat breeds in the alpine or sub-alpine meadows and scrub in the mountains of Mongolia and adjacent parts of Russia. It winters in the Terai of Nepal and northern India in wet and dry grasslands, reeds and tamarisks along riverbeds, and also in sugarcane fields.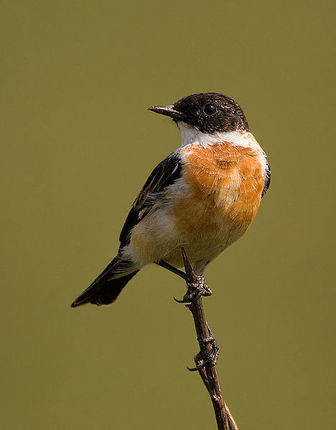 Picture of the Hodgson's Bushchat has been licensed under a Creative Commons
Attribution-Share Alike
.
Original source
: Subramanya CK
Author
: Subramanya CK
The Hodgson's Bushchat is classified as Vulnerable (VU), considered to be facing a high risk of extinction in the wild.

Hodgson's Bushchat, Saxicola insignis, is an Old World flycatcher in the genus Saxicola. It is also known as the White-throated Bushchat. Hodgson's Bushchat breeds in the alpine or sub-alpine meadows and scrub in the mountains of Mongolia and adjacent parts of Russia. It winters in the Terai of Nepal and northern India in wet and dry grasslands, reeds and tamarisks along riverbeds, and also in sugarcane fields. This species has been classified as Vulnerable by BirdLife International. More
Hodgson's Bushchat Saxicola insignis - Male assuming breeding plumage Hodgson's Bushchat Photographer : More
Common Stonechat Hodgson's Bushchat Hodgson's Bushchat Pied Buschat Grey Bushchat Grey Bushchat Grey Bushchat Orange-flanked Bush Robin White-crested Laughingthrush Bushlark id? Bushlark id? Bar-tailed Treecreeper Bar-tailed Treecreeper Rufous-bellied Niltava Slaty-blue Flycatcher Yellow-bellied Fantail Grey-headed Canary Flycatcher Red-throated Flycatcher Rufous-gorgeted Flycatcher Emerald Dove Brown Fish Owl Crested Serpent Eagle Mountain Hawk Eagle Miuntain Hawk Eagle Grey-headed Fish Eagles Hen Harrier Hen Harrier - Common Stonehcat faceoff Hen Harrier Hen Harrier Black-shouldered Kite Black-shouldered Kite Cinereous Vulture More
Hodgson's Bushchat, Saxicola insignis, is an Old World flycatcher in the genus Saxicola. It is also known as the White-throated Bushchat. More
Hodgson's Bushchat Hodgson's Bushchat Koklass Pheasant Rusty-cheeked Scimitar Babbler Yellow-bellied Fantail Tawny Fish Owl Collared Falconet Pied Harrier Ashy Bulbul Himalayan Black Bulbul Ashy Bulbul Ruddy Shelduck Steppe Eagle Steppe Eagle Spanish Sparrow Maroon Oriole Lesser Fish Eagle Lesser Fish Eagle Pallas' Fish Eagle Blue-throated Barbet Asian Barred Owlet Elephants on the Ramganga Cheer Pheasant Hodgson's Bushchat Hodgson's Bushchat Koklass Pheasant Rusty-cheeked Scimitar Babbler Yellow-bellied Fantail More
HODGSON'S BUSHCHAT * Saxicola insignis * 17 cms previous Click here to comment on this image next Site Map Oriental Bird Club Copyright of all images is retained by Vijay Cavale and respective copyright owners. More
Hodgson's Bushchat, Saxicola insignis, is an Old World flycatcher in the genus Saxicola. It is also known as the White-throated Bushchat. Hodgson's Bushchat breeds in the alpine or sub-alpine meadows and scrub in the mountains of Mongolia and adjacent parts of Russia. It winters in the Terai of... More
HODGSON'S BUSHCHAT * Saxicola insignis * 17 cms Click here to comment on this image View the previous image View the next image More
Hodgson's Bushchat or White-throated Bushchat, Saxicola insignis Fuerteventura Chat or Canary Island Stonechat, Saxicola dacotiae European Stonechat, Saxicola rubicola (previously S. torquata rubicola) Siberian Stonechat or Asian Stonechat, Saxicola maura (previously S. More
Finn's Weaver, whilst Hodgson's Bushchat occurs in winter and in summer Bengal Florican and Bristled Grassbird may be found. The park also supports a particularly wide range of woodpeckers, warblers and bush warblers, whilst such rarities as Jerdon's Babbler and Jerdon's Bushchat may also be seen. More
* Hodgson's Bushchat Saxicola insignis in the Mongolian Altai. (PDF, 225 kb) * Conservation of the critically endangered east Asian population of Dalmatian Pelican Pelecanus crispus in western Mongolia. (PDF, 326 kb) * First records and first proven breeding of Lesser Grey Shrike Lanius minor in Mongolia. More