Daurian Redstart
Like all typical redstarts, they are strongly sexually dimorphic. Breeding males have a grey crown and nape with lighter forehead and crown-sides, a black face and chin, brownish mantle and wings and a large white wing patch; the chest, lower back and rump are orange, and the tail is black with orange sides. Juvenile males are similarly patterned but much duller and less clearly marked.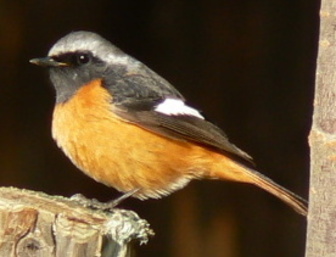 Picture of the Daurian Redstart has been licensed under a Creative Commons
Attribution-Share Alike
.
Original source
: Own work
Author
: Kuribo
The Daurian Redstart is classified as Least Concern. Does not qualify for a more at risk category. Widespread and abundant taxa are included in this category.

The Daurian Redstart (Phoenicurus auroreus) is a small passerine bird from temperate Asia. In Japan, it is known as jōbitaki (ジョウビタキ). Description and systematics - Like all typical redstarts, they are strongly sexually dimorphic. Breeding males have a grey crown and nape with lighter forehead and crown-sides, a black face and chin, brownish mantle and wings and a large white wing patch; the chest, lower back and rump are orange, and the tail is black with orange sides. More
The Daurian Redstart (Phoenicurus auroreus) is a small passerine bird that was formerly classed as a member of the Thrush family (Turdidae), but is now more generally considered to be an Old World flycatcher (Muscicapidae). The Japanese name is jobitaki Distribution / Range It is a fairly common bird in East Asia, ranging eastwards from Mongolia and the Himalayas. There are two subspecies, both of which are migratory, with P. a. More
The male Daurian Redstart is a small (15 cm), colourful bird with brownish-black face, back, throat and wings, and bright rufous underparts. The crown and nape are grey with silvery edges. There is a prominent white wing patch, and the central tail feathers are blackish, the rest of the tail being rufous. The female is brownish overall, with a white wing patch, and rufous tail with dark brownish central feathers. The bill and feet are black. More
Daurian redstart, Phoenicurus auroreus, was one of such birds. I wonder whether it might be absorbed in taking food or just vacantly perching. (D300s Nikkor300mmF2.8D+TC14E, February 6, 2010) Copyrighted by K. More
The Daurian Redstart (Phoenicurus auroreus), is a fairly common bird in East Asia, ranging eastward from Mongolia and the Himalayas. There are two subspecies, both of which are migratory. P. a. auroreus winters in Korea, Japan, southeast coastal China and Taiwan, and P. a. leucopterus in northern India and parts of Southeast Asia. Daurian Redstarts favor open forests, forest edges, agricultural margins, and are also commonly found in parks and urban gardens. More