Hooded Wheatear
This 15.5-17 cm long bird is a resident breeder in unvegetated desert from eastern Egypt through the Arabian peninsula to Iran and Pakistan. It has occurred as a wanderer to Cyprus. The nest is built in a rock crevice, and 3-6 eggs is the normal clutch.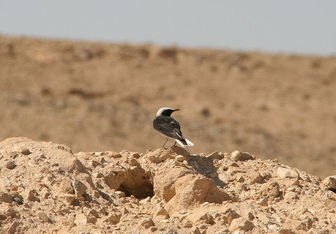 Picture of the Hooded Wheatear has been licensed under a
GFDL
Original source
: Henrike Mühlichen
Author
: Henrike Mühlichen
Permission
: GNU Free Documentation License
The Hooded Wheatear is classified as Least Concern. Does not qualify for a more at risk category. Widespread and abundant taxa are included in this category.

The Hooded Wheatear, Oenanthe monacha, is a wheatear, a small insectivorous passerine that was formerly classed as a member of the Thrush family Turdidae, but is now more generally considered to be an Old World flycatcher, Muscicapidae. This 15.5-17 cm long bird is a resident breeder in unvegetated desert from eastern Egypt through the Arabian peninsula to Iran and Pakistan. It has occurred as a wanderer to Cyprus. The nest is built in a rock crevice, and 3-6 eggs is the normal clutch. More
In summer the male Hooded Wheatear is a white and black bird. The white crown and belly contrast with the black face, back and throat. The tail and rump are white with black central tail feathers. The female is brown, becoming somewhat paler below. The tail pattern is similar to the male's, but the ground colour is buff rather than white. Hooded Wheatear feeds on insects, often taken in the air. Its call is a whistled vit, and the song is a harsh chattering. More
For the purposes of our bird news services, Hooded Wheatear is classed as ungraded: species which are unlikely to appear as wild birds in Britain or Ireland (Note that rarity levels are currently applied nationally and may not reflect local variations in abundance. More
Hooded Wheatear More
Hooded Wheatear, Israel, Nr Shizzafon 8.4.08 © John Dempsey Full trip report from Marshside's finest at http://birdblog.merseyblogs.co.uk Hooded Wheatear - Hooded Wheatear, Israel, Shizzafon sewage works 28 March 2009 © Matthew Deans Cracking male on sewage works fence. Send this as a postcard Hooded Wheatear - Hooded Wheatear (Oenathe monacha) fem. More
Hooded wheatear is a species restricted wholly or largely to the Middle East, Evans (1994) and is therefore of conservation importance at Wadi Rum. As mentioned above, the species was more numerous than expected and so future work should aim to maintain numbers within the Protected Area. The species' preference for desolate, rocky areas means that it does not, at present, appear to be facing any serious threats. More