African Dusky Flycatcher
The African Dusky Flycatcher is 13 cm long and weighs around 11 gm. Its upperparts are plain brown, with the only facial marking being an indistinct narrow eye-ring. The chin is plain pale grey, and the rest of the underparts are grey-brown with indistinct streaks. The short, straight, laterally flattened bill is black, the legs and feet are grey, and the eyes are brown. The sexes are similar, but the juvenile is spotted with buff above, and is whitish spotted with brown below.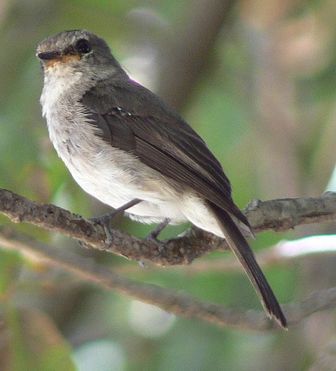 Picture of the African Dusky Flycatcher has been licensed under a
GFDL
Original source
: Transferred from en.wikipedia; transferred to Commons by User:Sreejithk2000 using CommonsHelper.
Author
: Original uploader was Oom Kosie at en.wikipediaPermission(Reusing this file)CC-BY-SA-3.0-MIGRATED; Released under the GNU Free Documentation License.
Permission
: GNU Free Documentation License
The African Dusky Flycatcher is classified as Least Concern. Does not qualify for a more at risk category. Widespread and abundant taxa are included in this category.

The African Dusky Flycatcher or Dusky Alseonax, Muscicapa adusta, is a small passerine bird of the Old World flycatcher family, Muscicapidae. It is a resident breeder in Africa from Nigeria, the Central African Republic, Sudan and Ethiopia south to South Africa. It is very common in its woodland habitat, which includes riverine forests, evergreen forest edges and clearings, especially near water bodies such as lakes, dams and streams, and well-wooded suburban gardens. More
African Darter | African Dusky Flycatcher | African Fish Eagle | African Grey Flycatcher | African Jacana | African Paradise Flycatcher | African Pygmy Goose | African Thrush | Arabian Bustard | Augur Buzzard | Banded Barbet | Bearded Woodpecker | Black-billed Barbet | Black-billed Wood-hoopoe | Black-winged Lapwing | Black-winged Lovebird | Black-winged Stilt | Blue-breasted Bee-eater | Blue-winged Goose | Cattle Egret | Chestnut-naped Francolin | Cinnamon-breasted Rock Bunting | Common Bulbul | Common Fiscal | Common Greenshank | Crowned Lapwing | More
page 920 also a picture of the African Dusky Flycatcher on page 753. The African Dusky Flycatcher belongs to the family of birds classified as Muscicapidae. In the previous edition of Roberts (ie 6th edition) the African Dusky Flycatcher was called the Dusky Flycatcher The map of the Kruger you see on this page shows the areas (coloured orange) where this bird has been identified. More
The African Dusky Flycatcher (or just Dusky Flycatcher) is an African endemic found mainly in the east of the continent from the Ethiopian highlands south to the Cape, extending West to Angola: its distribution in Kenya marks the eastern most extent of its range. More