Ultramarine Flycatcher
Summer: Common breeding visitor to the western Himalayas, from Kohat in North-West Frontier Province, Pakistan east through Kashmir to Uttaranchal , and intergrading with in Nepal with the eastern race aestigma which continues in the eastern Himalayas through Bhutan to Arunachal Pradesh to Tibet. Breeding between 2000-2700m, occasionally as low as 1800 and as high as 3200m. Also in the lower hills of Meghalaya and Nagaland, Khasi and Cachar hills, sometimes considered a third race; winter movements of this population is not known . Habitat: Open, mixed forests of oak, rhododendron, pine, fir, etc., occasionally orchards.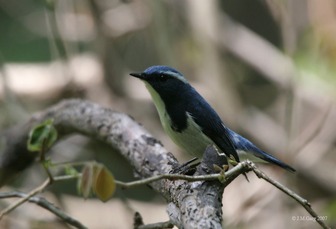 Picture of the Ultramarine Flycatcher has been licensed under a
GFDL
Original source
: Own work
Author
: J.M.Garg
Permission
: GNU Free Documentation License
The Ultramarine Flycatcher is classified as Least Concern. Does not qualify for a more at risk category. Widespread and abundant taxa are included in this category.

The Ultramarine Flycatcher Ficedula superciliaris breeds in the foothills of the Himalayas and winters in southern India. Distribution / Range Summer: Common breeding visitor to the western Himalayas, from Kohat in NWFP, Pakistan east through Kashmir to Uttaranchal (western race), and intergrading with in Nepal with the eastern race aestigma which continues in the eastern Himalayas through Bhutan to Arunachal Pradesh to Tibet. Breeding between 2000-2700m, occasionally as low as 1800 and as high as 3200m. More
Ultramarine Flycatcher Ficedula superciliaris superciliaris - Juvenile Ultramarine Flycatcher Photographer : More
Ultramarine Flycatcher Ficedula superciliaris - Ultramarine Flycatcher Ficedula superciliaris copyright Sudhir Shivaram; Jan 5, 2005; Nandi Hills, around 60 Kms from Bangalore. COPYRIGHT: delhibird - The Northern India Bird Network. All rights reserved. More
Ultramarine Flycatcher (Ficedula superciliaris) breeds in Himalayas and north-east India and winters in south India. More
Ultramarine Flycatcher Forward | Print | Individual message | Show original | Report this message | Find messages by this author Ultramarine Flycatcher : Ficedula superciliaris Place : Sat Tal Date : May 2009 Equipments : Canon 30D, Canon 300 2.8 with 2x TC. One of those lucky days when the bird was just not afraid of us... initially he sat so close that I was not able to focus at all. More
查看完整版本: Ultramarine Flycatcher photographed at KFBG 嘉道理農場有白眉藍姬鶲 = kmike 9/01/2007 04:17 Ultramarine Flycatcher photographed at KFBG 嘉道理農場有白眉藍姬鶲 - The bird in the link below was photographed at KFBG on Friday 5th January. It was seen in the lower part of the farm just uphill from the wild Boar enclosure. http://www.hkwildlife.net/viewthread.php?tid=5687&extra=page%3D2 It would be just the second record for Hong Kong, although the first was considered to be an escape. More
Ultramarine Flycatcher - birds of north India - North India - PASSERIFORMES - Muscicapidae - Birders north-india. More
Ultramarine Flycatcher Ficedula superciliaris = Pune, Maharashtra, India - Feb 18, 2007 More
Ultramarine Flycatcher call and song, other birds and insects in the background. login or register to post comments | my favorites | Report this file Featured Libraries - BLASTWAVE FXBLASTWAVE FXmich3dmich3dAtomic PulseAtomic PulseFrank SerafineFrank SerafineSFX SourceSFX Source Latest sounds - 01 Flight of the Bea ...01 Flight of the Bea ...01 Flight of the Bea ... More
Ultramarine Flycatcher Ficedula superciliaris 2009 IUCN Red List Category (as evaluated by BirdLife International - the official Red List Authority for birds for IUCN): Least Concern Justification This species has a very large range, and hence does not approach the thresholds for Vulnerable under the range size criterion (Extent of Occurrence 30% decline over ten years or three generations). More