Seychelles Magpie Robin
This species of magpie robin is approximately 25 cm in length. It has a glossy coal-black plumage with a white-colored bar on each wings. It is considered a long-lived species whose lifespan is over 15 years of age. Its habitat is woodlands, plantations and the vicinity of gardens. Their range on the island of Fregate was limited by the area of open ground with leaf litter.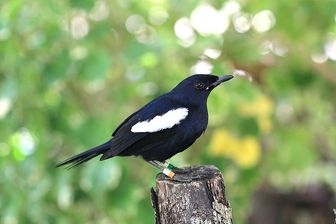 Picture of the Seychelles Magpie Robin has been licensed under a Creative Commons
Attribution-Share Alike
.
Original source
: Magpie RobinoUploaded by Snowmanradio
Author
: Adrian Scottow from London, England
The Seychelles Magpie Robin is classified as Endangered (EN), considered to be facing a very high risk of extinction in the wild.

The Seychelles Magpie Robin (Copsychus sechellarum) is a medium-sized endangered bird from the granitic Seychelles in the Indian Ocean. This species of magpie robin is approximately 25 cm in length. It has a glossy coal-black plumage with a white-colored bar on each wings. It is considered a long-lived species whose lifespan is over 15 years of age. Its habitat is woodlands, plantations and the vicinity of gardens. Their range on the island of Fregate was limited by the area of open ground with leaf litter. More
The Seychelles magpie robin feeds on a variety of invertebrates such as earthworms, centipedes and small scorpions, although fruit and vegetables, or small vertebrates, may also be taken (2). They forage for prey along the ground and frequently trail after large animals such as pigs and giant tortoises (Geochelone gigantea), which disturb the ground (5). Nests are found in the crowns of coconut trees or in holes in the trunks of large trees (2). More
The population of the Seychelles Magpie Robin has reached dangerously low levels to only just over 80 birds across four islands and the species was in critical danger and required immediate action. This was because during a hotel construction project in 1996 rats were introduced onto Fregate Island, which houses the core population of the bird and through both depredation of fledglings and competition for the Robins' primary food source (invertebrates) the population again began to go into decline. More
The Seychelles Magpie Robin isn't a bird of paradise, simply because it doesn't own a fancy plume or possess spectacular colours and crests, but it beats any groom on his wedding day, with shiny black feathers, splashed with a dash of white across the wings. Magpie Robins enjoy a varied diet of fruits; foraging in trees as well as on the ground, but are also very fond of insects and worms. More
Seychelles magpie robins on Aride The Seychelles magpie robin (or Pisantez in Creole), might not sound too special, but it is actually one of the world More
The Seychelles Magpie Robin Copsychus sechellarum is an endemic bird of the Seychelles and is one of the rarest birds on earth. Between the 1950s and 1990s, the whole world population was restricted to Frégate Island and at times came very close to extinction, it was classed as critically endangered in the IUCN's Red List of Threatened Animals. The SMR was historically recorded on at least seven islands in the Seychelles, and was probably found on all of the larger and medium sized Granitic Islands. More
Seychelles Magpie Robin pulli at 9 days old © J. Souyave Seychelles Magpie Robin pulli at 17 days old © J. Souyave Through an active conservation programme coordinated by BirdLife Interntional and later Nature Seychelles, which involved moving predators, improving habitat and providing nest boxes on Fregate and moving birds to other predator-free islands to start new populations, the total number of birds has risen significantly, although it remains one of the rarest birds in the world. More
The Seychelles magpie robin is no bird of paradise. It cannot boast gloriously sweeping tail feathers or a fancy plume or outrageous colors. But its dress is as sharp as that of any bird, the males and females both bearing immaculate, glossy, coal-black plumage with a brilliant dash of white across the wings. More
know that a major predator of Seychelles magpie robins there is the barn owl, which, ironically enough, was introduced in the 1950s to control rats, another robin killer. Poor habitat, pesticides, and bacterial infections may also be to blame, but currently we're unable to finger the chief culprit or culprits using the available data. Today only one pair resides on Aride, but research is ongoing. More
* Seychelles Magpie Robin, 2 on Aride and 6 on Cousin, all were very confiding and photogenic. * Seychelles Warbler, 12 or so on Aride and 6 on Cousin performed down to arms length. * Seychelles Paradise Flycatcher, a male and female seen together from the boardwalk at the reserve on La Digue. More
female Seychelles Magpie Robin have similar plumage. They forage on the ground, often following large animals, including giant tortoises and pigs, which disturb invertebrates in the litter. Nests are simple cups of dry grass and coconut fibre. Only a single egg is laid in a breeding season. PREVIOUS GEOGRAPHICAL SPREAD Other islands within the Seychelles that formerly supported the species include: Mah More
The Seychelles Magpie Robin (Copsychus sechellarum) is a medium-sized endangered bird from the granitic Seychelles in the Indian Ocean. More