Noisy Miner
Colouration is principally grey, with a lighter grey on their underbelly. The wings have flashes of green on the edges. The beak and area around and behind the eyes is yellow. When indicating submission, the bird frequently fluffs up the feathers around the eye, opening its beak to flutter its tongue and softly utter a pipipipipee, pee, pee! noise. A distinctive black head resembling a miner's cap gives rise to its name. Grows to 20–25 cm in size.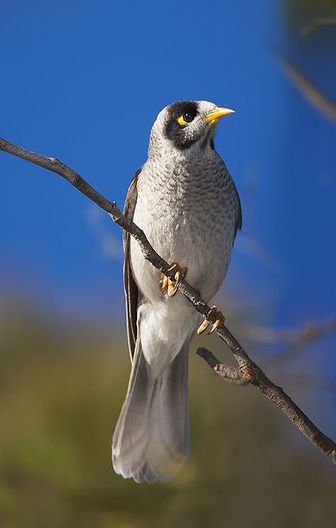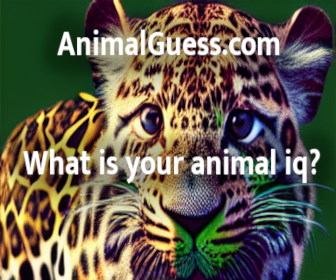 Picture of the Noisy Miner has been licensed under a
GFDL
Original source
: Own work
Author
: JJ Harrison (http://www.noodlesnacks.com/)Camera location
Permission
: GNU Free Documentation License
The Noisy Miner is classified as Least Concern. Does not qualify for a more at risk category. Widespread and abundant taxa are included in this category.

The Noisy Miner (Manorina melanocephala) is a bird common to the eastern and southern states of Australia. It ranges from northern Queensland along the eastern coast to South Australia and Tasmania. Its typical diet consists of nectar, fruit and insects, and occasionally it feeds on small reptiles or amphibians. Somewhat opportunistic, the Miner will also feed on grains and can be seen foraging in grasslands although its normal habitat is scrub and woodlands. More
Noisy Miner in tree. Noisy Miner in tree. Photo: R Major © Australian Museum Noisy Miner. Image from: John Gould (1804-81) The birds of Australia 1840-48. 7 vols. 600 plates Artists: J. Gould and E. Gould; Lithographer: E. Gould. Noisy Miner. Image from: John Gould (1804-81) The birds of Australia 1840-48. 7 vols. 600 plates Artists: J. Gould and E. Gould; Lithographer: E. Gould. Photo: Research Library © Australian Museum Noisy Miner. Noisy Miner. More
The Noisy Miner is a bold and curious bird. It is identified by its mostly grey body and black crown and cheeks. The bill is yellow, as are the legs and the naked skin behind the eye. The name is well suited as the common calls are uttered repeatedly by the members of the colony. More
Lateral view of a Noisy Miner at close range (click on image for larger version) An upset Noisy Miner ("melanocephala"), squawking at the intruder that unknowingly had come too close to its lair (click on image for larger version) Here a Noisy Miner checking out an Australian Magpie (click on image for larger version) Nest Below photos of a Noisy Miner on its nest under the roof of More
Noisy miners were removed from seven patches of Box-Ironbark or grey box forest, and the recolonisation by other species of birds was monitored over several years. The study showed that at six of the seven noisy miner-free areas created, the diversity and abundance of other insectivorous birds increased markedly. This increase did not occur at the matching control sites where noisy miners were not removed. More
Noisy Miner is an aggressive bird, living in groups or colonies. Adult male has pale grey plumage overall, with darker wings and tail. Wings are slightly washed green on the edges. Mantel is pale grey scaled with dark grey. Underparts are paler, whitish-grey on belly, vent and undertail feathers. Chin, throat and breast are whitish-grey, spotted with darker grey. Head shows black crown and cheeks. Forehead, face and nape are brownish-grey, spotted with darker grey, as mantel. More
Despite being the Noisy Miner a native bird of Australia, common to the eastern and southern states, is very similar and people often confuse it with the Common Myna, which is widely spread in cities and urban centres where they have congregated and thrived. Mynas have also invaded regional areas, threatening native birds and hollow-dwelling animals. Noisy Miners are large honeyeaters that live in groups, with each group strongly defending a communal territory. More
This is an image of a Noisy miner; in the report 'Managing Bird Damage to Fruit and Other Horticultural Crops'. Photo: B. Furby. This is an image of areas of Australia where the Noisy miner is found. In the report 'Managing Bird Damage to Fruit and Other Horticultural Crops'. More
Noisy Miners can not be re-released into the wild alone, because of the territorial and very aggressive nature of the occupying colony, so 'Fauna Rescue' volunteers are extremely reluctant to take any in. They are very active birds, easily distressed by being caged, and difficult to domesticate compared to traditional 'pet' birds. Finch or Insectivore rearing food mixed with Lorikeet & Honeyeater feed sustains them well, though they will generally try to eat anything offered. More
Two noisy miner's in birdbath = A1Huxley 50 vidéos S'abonnerModifier l'abonnement Chargement… 83 vues 83 vues A1Huxley — 3 février 2010 — Noisy miner (Manorina melanocephala) in birdbath. Shot with Canon ixus 100 is (780 is) A1Huxley — 3 février 2010 — Noisy miner (Manorina melanocephala) in birdbath. More
Noisy Miner in Sydney, Australia Noisy Miner in Sydney, Australia Colouration is principally grey, with a lighter grey on their underbelly. The wings have flashes of green on the edges. The beak and area around and behind the eyes is yellow. When indicating submission, the bird frequently fluffs up the feathers around the eye, opening its beak to flutter its tongue and softly utter a "pipipipipee, pee, pee!" noise. More
* A Noisy Miner in Sydney Botanic Gardens A Noisy Miner in Sydney Botani... * Noisy Miner. (Manorina melanocephala) Noisy Miner. (Manorina melanoc... * Noisy Miner. (Manorina melanocephala) Noisy Miner. (Manorina melanoc... * 2009-12-01 10-05-59 Noisy Miner - IMG_3674 2009-12-01 10-05-59 Noisy Mine... More
all black and white but still as friendly as ever Noisy miner is planning another clutch 2 eggs in here while the nest is being fortified wild grasses abound wild grasses abound filling the bushy landscape to the joy of the birds and animals The galahs are keen to show their nest and pose for the camera The peewee too wants to be seen read more » * Babbler * baby birds * Bat More
Noisy Miners are found in woodlands and open forests. They have also become well adapted to suburban situations and are a common sight in parks and gardens. Feeding The Noisy Miner feeds on nectar, fruits and insects. Very occasionally they will eat small reptiles and amphibians. Food is either taken from trees or on the ground. In keeping with its highly social nature, the Noisy Miner usually feeds in large groups. More
A couple of Noisy Miner birds on a perched on a fence post in the Wittunga Botanic Gardens late last year. This photo is covered by the Creative Commons Attribution-Noncommercial-Share Alike 2.5 Austr… more → Photos by Techxplorer Noisy Miner (Manorina melanocephala) Frank Arnold wrote 3 months ago: A Noisy Miner (Manorina melanocephala), photographed in the Jells Park in May 2009. More
The noisy miner enjoys the fruits of a front garden in the Brisbane suburb of Chapel Hill. The popularity of flowering trees in the suburbs is helping the spread of a native species blamed for the decline of others, reports Greg Roberts. An environmental monster is lurking in the suburban gardens of eastern Australia in the unlikely form of a cute-looking native bird, the noisy miner. More
Noisy Miners can be confused with two other species of miner, the Yellow-throated Miner (Manorina flavigula) and the Black-eared Miner (Manorina melanotis), but neither of these species have a black patch that extends across the top of the head as seen in the Noisy Miner. The Yellos-throated Miner is found west of the Dividing Range across to the Indian Ocean while the Black-eared Miner has a very restricted distribution around where the New South Wales, Victorian and South Australian borders meet. More
the same as our own native Noisy Miner that is where the comparison ends. Both male and female Indian Mynahs have a chocolate brown head, neck and throat with a green sheen, the rest of the body is mainly a fawn colour with some white on the tips of their wings and under their tail. Beak, back of eye and legs are yellow. More
Detering a swooping Noisy Miner in your area Advice & Relocation References and suggested further readingContents of this pageClick here for a list of Contacts * Home * Snake Catcher Directory * Snake Id & Info * Lizards * Brush Turkeys * Swooping Birds * Possums * Injured wildlife More
Noisy Miner sitting on the wire Minnie was the first Noisy Miner to initiate a conversation with us. Noisy Miners are one of the commonest flock birds in eastern Australia. Some folks call them 'mickey birds'. We call ours 'Minnie birds' as umpteen generations of Minnie's kids have grown up in our yard and delighted us with their play, song and interaction with the magpies, butcherbirds and others. More
This page features the noisy miners, which are cute, brave, intelligent, and great flyers. They are also very territorial, and they have learned a good way to defend their territory: just fly around any intruder, screaming at it until it leaves. It works. Cats hate it because they like to sneak up on things, and the miner blows its cover. Dogs hate it because they are afraid they did something wrong (though they don't know what), so they run away quickly and hope that nobody noticed. More
Noisy Miners - aggression in the suburbs = As people make more changes to the Australian environment some critters are disappearing. But some, like the noisy miner, Manorina melanocephala, seem to be doing very nicely.. brush turkey The Noisy Miner is a curious and aggressive Australian bird Noisy Miners are nectar-eating birds native to eastern Australia. They enjoy nectar (of course), fruit and the occasional insect. More
locate noisy miner links and information on noisy miners Manorina melanocephala also known as a soldier bird or soldierbird for the suburban community of Sunnybank, Brisbane, Queensland, Australia. More
The Noisy Miners live up to their name, at least the noisy part. They are also a very agressive species, frequently harassing other birds. They've adapted well to urban settings. Copyright More
noisy miner Show machine tags (0) Hide machine tags (0) Additional Information AttributionNoncommercialNo Derivative Works Some rights reserved Anyone can see this photo * Taken in Boyer, Tasmania (map) * Taken on November 19, 2007 * Viewed 70 times Add to your map Yay location removed ... (Some formats are OK. More