Yellow-throated Miner
The Yellow-throated Miner is a medium sized bird, reaching a length of 26 to 28 centimetres . The dorsal surface is a dark grey, and the ventral surface almost white. The beak, eye skin, side of the throat, legs, feet and parts of the wing and tail are yellow. The feather surrounding the eye are black, and the rump is white.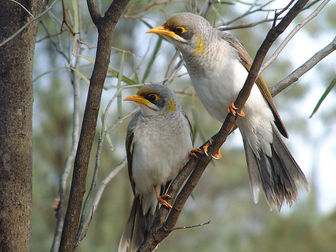 Picture of the Yellow-throated Miner has been licensed under a Creative Commons
Attribution-Share Alike
.
Original source
: Flickr, taken by Michael Barritt & Karen May
Author
: Michael Barritt & Karen MayPermission(Reusing this file)CC-BY-SA
The Yellow-throated Miner is classified as Least Concern. Does not qualify for a more at risk category. Widespread and abundant taxa are included in this category.

The Yellow-throated Miner (Manorina flavigula) is a species of honeyeater, native to Australia. Physical description - The Yellow-throated Miner is a medium sized bird, reaching a length of 26 to 28 centimetres (10.2-11.0 in). The dorsal surface is a dark grey, and the ventral surface almost white. The beak, eye skin, side of the throat, legs, feet and parts of the wing and tail are yellow. The feather surrounding the eye are black, and the rump is white. More
The Yellow-throated Miner is a medium-sized honeyeater, grey above from the crown to the tail, pale grey below with light brown scalloping on the breast to the white rump, with a black face, distinctive yellow forehead and sides of throat. The bare eye skin, bill, legs and feet are also yellow. The wings and tail edges are washed yellow, and the tail tips are white. This species is noisy and sociable, and may be aggressive towards other birds. More
The Yellow-throated Miner inhabits dry forests, but can inhabit parks and backyards of disturbed habitat. It is a loud, and conspicuous bird, congregating in large flocks outside of the breeding season. Unlike most honeyeaters, its diet consists mostly of insects, but does include some nectar. They are aggressive towards other birds, especially during the breeding season. The distribution of the Yellow-throated Miner is wide across Australia. More
yellow-throated miner (This is not the noisy miner of the east coast) Yellow-Throated Miner Yellow-Throated Miner Yellow-Throated Miner Locations for recordings with GPS coordinates page 1 Yellow-throated Miner call Manorina flavigula (0:02) Peter Woodall XC36624 19-06-2009, Australia Yellow-throated Miner alarm call Manorina flavigula (0:18) Peter Woodall XC36625 20-06-2009, Australia More
The following is a photograph of a Yellow-throated Miner feeding on a grevillea in a caravan park in Esperance in May 1997. The following is a photograph of a Yellow-throated Miner on a power line in Exmouth in October 2000. The following is a photograph of a Yellow-throated Miner carrying food to a nestling in Exmouth in October 2000. More
Yellow-throated Miner Manorina flavigula, but can be distinguished readily in the field by its much darker rump, lack of pale terminal band on the tail and a greater contrast between the colour of the feathering on the lower jaw and throat (Clarke and Clarke 1999a). Taxonomy There has been controversy over the taxonomic status of the Black-eared Miner. More
Yellow-throated Miners in corroboree display. Photo: 635202 635202 ... Yellow-throated miner from Moomba, S.A. Photo: 635203 635203 ... Yellow-throated Miner from near Hall's Creek, W.A. More
expansion of the Yellow-throated Miner which prefers open habitats (Schodde 1981, 1990; Joseph 1986; Starks 1987). Prior to widespread clearing in the Murray Mallee, the Yellow-throated Miner occurred infrequently in open woodlands (Chandler 1937; Ashby 1922; Joseph 1986; Emison et al 1987; Starks 1987). However, it is now abundant and commonly recorded occupying shelter belts and roadside vegetation adjacent to cleared farmland (Emison et al 1987; Starks 1987; McLaughlin 1990, 1992). More
Yellow-throated Miner which prefers open habitat. Once infrequently occurring in open woodland, the Yellow-throated Miner is now abundant and commonly recorded occupying shelter belts and roadside vegetation. Black-eared Miners were rapidly eliminated from remant vegetation due to a combination of competition, introgressive hybridisation and/or reduced population viability. More