Giant forest honeyeater
Its natural habitats are subtropical or tropical moist lowland forests and subtropical or tropical moist montanes. It is threatened by habitat loss.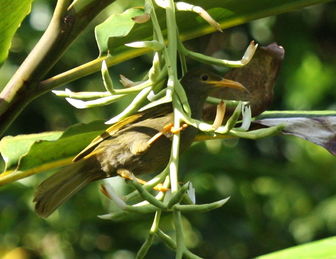 Picture of the Giant forest honeyeater has been licensed under a Creative Commons
Attribution-Share Alike
.
Original source
: Aviceda
Author
: Aviceda
The Giant forest honeyeater is classified as Least Concern. Does not qualify for a more at risk category. Widespread and abundant taxa are included in this category.

The Giant Forest Honeyeater (Gymnomyza viridis) is a species of bird in the Meliphagidae family. It is endemic to Fiji. Its natural habitats are subtropical or tropical moist lowland forests and subtropical or tropical moist montanes. It is threatened by habitat loss. References - * BirdLife International 2006. Gymnomyza viridis. 2006 IUCN Red List of Threatened Species. Downloaded on 26 July 2007. More
The Giant Forest Honeyeater (Gymnomyza viridis) is a species of bird in the Meliphagidae family. Edgar Leopold Layard CMG ( 23 July 1824 Florence – 1 January 1900 Budleigh Salterton, Devon, England Birds ( class Aves) are bipedal endothermic ( Warm-blooded) Vertebrate animals that lay eggs. The honeyeaters are a large and diverse family of small to medium sized birds most common in Australia and New Guinea, It is endemic to Fiji. More
DividerDescriptionAs the name suggests, the Giant forest honeyeater is a relatively large honeyeater, measuring 27cm from the tip of its beak to the tip of its tail. It has a typically slender, slightly down-curved bill and dull feathers. The entire bird is olive-green. Juveniles have lightly streaked and spotted underparts. There is a variation in bill and feet colour between the Viti Levu where they are dark, and the, Vanua Levu and Taveuni populations where they are light yellowish. More
along with male Orange Dove and the Giant Forest Honeyeater that we had heard but not seen at Nausori. The weather was problematic on New Year More