New Zealand Bellbird
The bellbird is found throughout both the main islands of New Zealand apart from the north of the North Island. Its population and distribution had been seriously affected by the introduction of European-style farming, which has led to the removal of native forests . Another important factor is the introduction of predatory species such as cats, weasels, stoats, ferrets, rats and food-robbing species like wasps. Predators either eat the birds or consume eggs, while food robbers compete with the bellbird for its natural food sources of nectar, honeydew and insects. The decline occurred around the same time as many other New Zealand species, but for unknown reasons was reversed and the species is still common across much of New Zealand .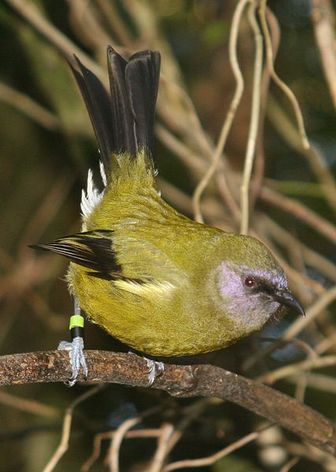 Picture of the New Zealand Bellbird has been licensed under a Creative Commons
Attribution-Share Alike
.
Original source
: Own workCamera ModelCanon EOS 20DShutter speed1/250sAperturef4.5Film speed (ISO)400LensCanon Zoom Lens EF 24-85mm 1:3.5-4.5 67mm-filter ultrasonicFocal length85mmFlashinternalSupportfreehand
Author
: Tony WillsPermission(Reusing this file)see licensing
The New Zealand Bellbird is classified as Least Concern. Does not qualify for a more at risk category. Widespread and abundant taxa are included in this category.

The New Zealand Bellbird (Anthornis melanura) also known by its native name Korimako is a passerine bird endemic to New Zealand. It has greenish coloration and is the only living member of the genus Anthornis. The bellbird forms a significant component of the famed New Zealand dawn chorus of bird song that was much noted by early European settlers. It has a bell-like song which is sometimes confused with that of the Tui. More
Canterbury, which found that the New Zealand bellbird is capable of changing its nesting behaviour to protect itself from predators, could be ... * Native birds outwit exotic predators Research has found that the New Zealand bellbird can change its nesting behaviour to avoid exotic predators, raising hopes for other island birds in similar situations. More
Decorations > Christmas New Zealand Bellbird Hanging Decoration Homeware Christmas New Zealand Bellbird Hanging Decoration - These are more than a Christmas Decoration. More
* New Zealand Bellbird (Anthornis melanura) * Bell Miner, colloquially known in Australia as the bellbird (Manorina melanophrys) Bellbird may also refer to: * Bellbird (Cocktail), an alcoholic drink * Bellbird (TV series), an Australian television production * Bellbird, New South Wales an Australian town This disambiguation page lists articles associated with the same title. More
The New Zealand Bellbird Anthoris melanura is a passerine bird that is endemic to New Zealand, and is commonly known simply as the 'bellbird'. It is known to the Māori as Korimako. It has a bell-like song which is sometimes confused with that of the tui. More
Stamps showing New Zealand Bellbird Anthornis melanura New Zealand Bellbird Anthornis melanura 127.009 New Zealand Bellbird IOC v2.4: 5581 Links will open countrypage in new window - New Zealand 03.08.1966 Health stamps - NO IMAGE PRESENTED - New Zealand 03.08. More
Aspects of the topic New Zealand bellbird are discussed in the following places at Britannica. Assorted References * description (in bellbird (bird)) Other species not related to Procnias are also called bellbirds. More
New Zealand Bellbird Anthornis melanura = New Zealand - 2003 More
the New Zealand bellbird is capable of changing its nesting behaviour to protect itself from predators, could be good news for island birds around the world at risk of extinction. More
University of Canterbury, which found that the New Zealand bellbird is capable of changing its nesting behaviour to protect itself from predators, could be good news for island birds around the world at risk of extinction. The introduction of predatory mammals such as rats, cats and stoats to oceanic islands has led to the extinction of many endemic island birds, and exotic predators continue to threaten the survival of 25 percent of all endangered bird species worldwide. More
New Zealand Bellbird, Anthornis melanura Meliphagidae (HONEYEATERS) New Zealand Bellbird, Anthornis melanura This photo was taken in: New Zealand This photo was taken with: Canon Powershot S5IS Notes on this photo: Taken Tiritiri Matangi, Janurary 2008 The photo was taken by: Russell Oxtoby , Birdtours.co. More