Red Wattlebird
Although honeyeaters look and behave very much like other nectar-feeding passerines around the world , they are unrelated, and the similarities are the consequence of convergent evolution. The Red Wattlebird is a large grey-brown honeyeater with red eyes, distinctive red wattles either side of the neck and white streaks on the chest and belly, which reveals a bright yellow patch towards the tail. Juveniles are generally less flamboyant, with less prominent wattles and browner eyes.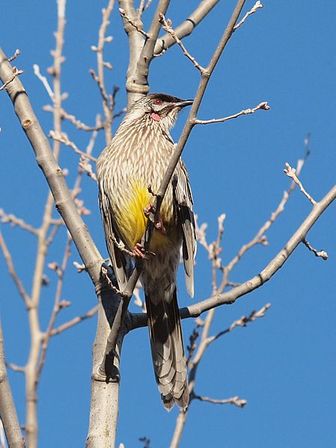 Picture of the Red Wattlebird has been licensed under a Creative Commons
Attribution
.
Original source
: Picasa Web Albums
Author
: Duncan McCaskill
The Red Wattlebird is classified as Least Concern. Does not qualify for a more at risk category. Widespread and abundant taxa are included in this category.

Red Wattlebird in Victoria, Australia, showing distinctive underside markings and colouring. The Red Wattlebird (Anthochaera carunculata), also known as Barkingbird or Gillbird, is a honeyeater; a group of birds found mainly in Australia and New Guinea which have highly developed brush-tipped tongues adapted for nectar feeding. The tongue is flicked rapidly and repeatedly into a flower, the upper mandible then compressing any liquid out when the bill is closed. More
The Red Wattlebird is a large (up to 35 cm) grey-brown honeyeater with red eyes, distinctive red wattles either side of the neck and white streaks on the chest and belly, which reveals a bright yellow patch towards the tail. Juveniles are generally less flamboyant, with less prominent wattles and browner eyes. The species is found in SE Queensland, New South Wales, Victoria, South Australia and southwest Western Australia in open forest, woodland, and near human habitation. More
Named for the lobes of skin on their cheeks, the Red Wattlebird is found in eucalypt woodlands, forests and mallee heaths in the southern parts of the continent. It is an aggressive three and shrub living bird with a diving undulated flight. It gathers in loose nomadic bands of five to 100 or more after breeding to roam on established flight paths in search of flowering eucalypt, banksia, grevillea and hakea which make up its diet, along with insects, such as honeybees, and fruit. More
Description Red Wattlebird in my backyard , Frankston, Australia. The Red Wattlebird is a large, noisy honeyeater. The common name refers to the fleshy reddish wattle on the side of the neck. The plumage is grey-brown on the body, with prominent white streaks and yellow on the belly. The face is pale and the tail is long with a white-tip. More
The Red Wattlebird, Anthochaera carunculata, is found in southern Australia and New Guinea - in open forests, woodland and near human habitation. It nests in trees, laying two or three eggs. Description: This honeyeater is 33 - 37 cm long and is the largest of all honeyeaters. Its name refers to the fleshy reddish wattle on the side of the neck. They have highly developed brush-tipped tongues adapted for nectar feeding. More
This is an image of a Red wattlebird; in the report 'Managing Bird Damage to Fruit and Other Horticultural Crops'. Photo: L. Pedler. This is an image of areas of Australia where the Red wattlebird is found. In the report 'Managing Bird Damage to Fruit and Other Horticultural Crops'. Birds Australia Atlas (1998–2002) Field identification The red wattlebird is a large (32–36 centimetres head to tail) honeyeater with grey-brown plumage that is streaked white. More
Red Wattlebird Size: 35cm Habitat: Found across the Southern parts of Australia, this bird inhabits forests, parks and gardens. Feeds on nectar, berries, fruits and insects. Notes: Grey/brown bird with streaks, Red eye and red wattles, yellow patch on belly. Breeds Winter-spring. For more information on Red Wattlebird see references. Images have been uploaded in low resolution for storage efficiency, ( they do not reflect the true image quality). Original images are high quality photographic files. More
pale The Red Wattlebird is among the largest of the Australian honeyeaters. ~ http://birdsinbackyards.net/ D300; Nikkor 80-400mm ED VR f/l 330mm, 1/180s, f/6.7,ISO: 400 Red Wattlebird belongs to the following groups: I LOVE BIRDS !, **SAFE HAVEN**, 300+ Go Long! (Limit 2/Day), Around The World >>>1 per day<<<, Australia! You're Standing In it.... More
Found across southern Australia, the Red Wattlebird is a noisy bird that vigorously defends a feeding territory against all other birds. There are two other wattlebirds that you might confuse it with. The Yellow Wattlebird (Anthochaera paradoxa) is restricted to Tasmania and Bass Straight islands where the Red Wattlebird does not occur. As it More
The Red Wattlebird is a large greyish-brown honeyeater with reddish-brown eye. It has a red wattle on each side of the neck. It has white streaks on the chest and belly. The log tail has a white tip. Young Red Wattlebirds are plainer with less prominent wattles and have brown eyes. More
This is a Red Wattlebird which is found throughout the south, south west and south east of Australia. I first encountered Red Wattlebirds on Christmas day 2006. I was in a tent at my friends holiday house and they were very noisy very early on Christmas morning! This particular picture was inspired by a drawing I made of a Red Wattlebird while in the Dandenong Ranges just outside of Melbourne on midwinters day last year. More
Blue Mountains (the Red Wattlebird is found in the Upper Mountains). It looks a lot like Red Wattlebird, but without the red flap of skin under its eye (the "wattle"), and it is a darker colour overall with more distinct white spots/stripes. It has a very distinctive call, a bit like an old wooden cuckoo-clock (it imitates the ticking of the clock and also the cuckoo sound), which sometimes can go on for hours at a time. More
Beautiful image of a red wattlebird ! and is that an Illawarra flame tree ? Posted 36 months ago. ( permalink ) view profile marj k Pro User says: It's a Flame Tree but I think this is the Sth African one. Posted 36 months ago. More
The Red Wattlebird is the largest honeyeater found in the district and is commonly found in native gardens and amongst flowering eucalypt trees. The Red Wattlebird grows up to 36 cm, has a brown back and lemon-yellow belly and characteristic fleshy red neck-wattles (hence the name) with a classic curved honeyeater bill. Its raucous calls include a hacking cough "yak, yakayak" and an emphatic "chock!" when alarmed. More
-Anthochaera carunculata > Red Wattlebird on Banksia... More
Red Wattlebird on bottlebrush Royalty Free Stock Photo Add to Lightbox | Download a comp Red Wattlebird on bottlebrush = Stock photo | File #: 3869150Exclusive photos and illustrations by contributors whose royalty-free stock is only available from iStockphoto and the Getty Images family of companies. More
The Red Wattlebird has red "Wattles" hanging from the sides of its throat. The Little Wattlebird is smaller and has distinctive white-edged spoonshaped feathers on the back. Very beautiful. More