Grey-winged Longbill
The Slaty-headed Longbill or Grey-winged Longbill is a species of bird in the Melanocharitidae family. It is found in Indonesia and Papua New Guinea. Its natural habitats are subtropical or tropical moist lowland forests and subtropical or tropical moist montanes.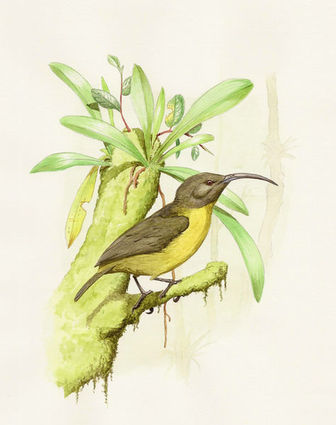 Picture of the Grey-winged Longbill has been licensed under a Creative Commons
Attribution-Share Alike
.
Original source
: Gossipguy
Author
: Gossipguy
The Grey-winged Longbill is classified as Least Concern. Does not qualify for a more at risk category. Widespread and abundant taxa are included in this category.

(220501) Grey-marketer (220502) Grey-marketers (220503) Grey-marketing (220504) Grey-markets (220505) Grey-matter (220506) Grey-matter degeneration (220507) Grey-naped (220508) Grey-naped Antpitta (220509) Grey-necked (220510) Grey-necked Bunting (220511) Grey-necked Friarbird (220512) Grey-necked Imperial Pigeon (220513) Grey-necked Picathartes (220514) Grey-necked Rockfowl (220515) Grey-necked Wood-Rail (220516) Grey-necked Wood-rail (220517) Grey-necked Wood Rail (220518) Grey-necked rockfowl (220519) Grey-olive (220520) Grey-olive Greenbul (220521) Grey-olives (220522) Grey-out (220523) Grey-red (220524) Grey-reds (220525) Grey-rumped (220526) Grey-rumped Sandpiper (220527) Grey-rumped Swallow (220528) Grey-rumped Swift (220529) Grey-rumped Treeswift (220530) Grey-shanked (220531) Grey-shanked Douc (220532) Grey-shanked douc (220533) Grey-sided (220534) Grey-sided Bush-Warbler (220535) Grey-sided Bush-warbler (220536) Grey-sided Bush Warbler (220537) Grey-sided Flowerpecker (220538) Grey-sided Laughingthrush (220539) Grey-sided Thrush (220540) Grey-sided Vole (220541) Grey-sided vole (220542) Grey-spotted (220543) Grey-spotted Flycatcher (220544) Grey-spotted flycatcher (220545) Grey-streaked (220546) Grey-streaked Flycatcher (220547) Grey-streaked flycatcher (220548) Grey-striped (220549) Grey-striped Brush-finch (220550) Grey-striped Brush Finch (220551) Grey-striped Francolin (220552) Grey-tailed (220553) Grey-tailed Piha (220554) Grey-tailed Tattler (220555) Grey-tailed Vole (220556) Grey-tailed tattler (220557) Grey-throated (220558) Grey-throated Babbler (220559) Grey-throated Barbet (220560) Grey-throated Chat (220561) Grey-throated Greenbul (220562) Grey-throated Leaftosser (220563) Grey-throated Rail (220564) Grey-throated Sand-martin (220565) Grey-throated Sunbird (220566) Grey-throated Tit-Flycatcher (220567) Grey-throated Tit-flycatcher (220568) Grey-throated Warbler (220569) Grey-throated Warbling-finch (220570) Grey-throated White-eye (220571) Grey-turner (220572) Grey-wing (220573) Grey-winged (220574) Grey-winged Blackbird (220575) Grey-winged Cotinga (220576) Grey-winged Francolin (220577) Grey-winged Inca-finch (220578) Grey-winged Inca Finch (220579) Grey-winged Longbill (220580) Grey-winged Robin-Chat (220581) Grey-winged Robin-chat (220582) Grey-winged Trumpeter (220583) Grey-winged cotinga (220584) Grey-winged trumpeter (220585) Grey-wings (220586) Grey/Bruce Highlanders (220587) Grey: Digital Target (220588) GreyCobra (220589) GreyLineFTPD (220590) Grey & Blue (220591) Grey (NZ electorate) (220592) Grey (New Zealand electorate) More