Variegated Fairy-wren
Like other fairywrens, the Variegated Fairywren is a cooperative breeding species, with small groups of birds maintaining and defending small territories year-round. Groups consist of a socially monogamous pair with several helper birds who assist in raising the young. Male wrens pluck yellow petals and display them to females as part of a courtship display. These birds are primarily insectivorous and forage and live in the shelter of scrubby vegetation across 90% of continental Australia, which is a wider range than that of any other fairywren.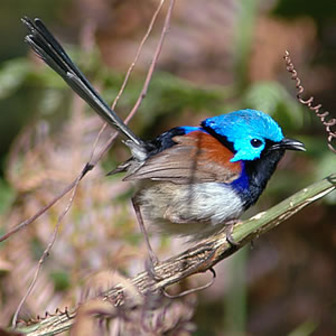 Picture of the Variegated Fairy-wren has been licensed under a Creative Commons
Attribution-Share Alike
.
Original source
: Own work
Author
: Brett DonaldOther versionshigh resolution version available from author
The Variegated Fairy-wren is classified as Least Concern. Does not qualify for a more at risk category. Widespread and abundant taxa are included in this category.

Variegated Fairy-wren, Malurus lamberti, at nest. More
Variegated Fairy-wren, male in breeding plumage. Variegated Fairy-wren, male in breeding plumage. Photo: K Vang and W Dabrowka / Bird Explorers © K Vang and W Dabrowka / Bird Explorers Variegated Fairy-wren. Image from: John Gould (1804-81) The birds of Australia 1840-48. 7 vols. 600 plates Artists: J. Gould and E. Gould; Lithographer: E. Gould. Variegated Fairy-wren. Image from: John Gould (1804-81) The birds of Australia 1840-48. 7 vols. 600 plates Artists: J. Gould and E. Gould; Lithographer: E. Gould. More
Variegated Fairy-wren Postcards (Package of 8) Wren Rectangle Magnet (10 pack) £31 Wren Rectangle Magnet (10 pack) Wren "Mosaic" Dark T-Shirt £18.50 Wren "Mosaic" dark t-shirt Winter Tote Bag £13.50 Winter Tote Bag Giverny Garden CafePress-Posters £25.50 Giverny Garden St Paul's Cathedral Journal £8.50 St Paul's Cathedral Journal Variegated Fairy-wren Keepsake Box £19. More
Variegated Fairy-wren Note Cards (Pk of 20) Variegated Fairy-wren Journal £8.50 Variegated Fairy-wren Journal Variegated Fairy-wren Small Poster £14 Variegated Fairy-wren Small Poster Variegated Fairy-wren Large Pet Bowl £15.50 Variegated Fairy-wren Large Pet Bowl Variegated Fairy-wren Mousepad £10 Variegated Fairy-wren Mousepad Variegated Fairy-wren Rectangle Sticker £3. More
Variegated Fairy-wrens are highly sociable birds, living in communal, territorial groups that always consist of a dominant male and female; the rest of the group are young males and females. Identification The breeding male Variegated Fairy-wren is brightly coloured. The crown and sides of the head are blue, and the shoulder patch is a rich chestnut. The depth and variety of colours in the male varies among the four subspecies, distributed across the Australian mainland. More
A female variegated fairy-wren in the bush at the wetlands. To take full advantage of Flickr, you should use a JavaScript-enabled browser and install the latest version of the Macromedia Flash Player. Would you like to comment? Sign up for a free account, or sign in (if you're already a member). Guest Passes let you share your photos that aren't public. Anyone can see your public photos anytime, whether they're a Flickr member or not. More
This is actually a male Variegated Fairy-wren, and a great shot of it. Posted 5 months ago. ( permalink ) view profile john.dart Pro User says: This is a great shot. Posted 5 months ago. ( permalink ) view profile colographicalchemy Pro User says: Beautiful colors! Seen in Birds Photos Group Posted 5 months ago. More
the Variegated Fairy-wren, or been allied with other blue forms of the latter as the subspecies dulcis. Biochemical information, combined with other differences in plumage, has established amabilis as a sister to the M. lamberti group, the two forming a superspecies. The Variegated Fairy-wren includes two northern subspecies, dulcis and rogersi, which are similar to M. amabilis, the Lovely Fairy-wren, in having blue-plumaged females. More
Several families of Variegated Fairy-wrens were spotted by us, without any doubt about their identification, in the area 20-30 km east of Narrabri in August 2008. At the time we saw at least two families sharing their territories with Superb Fairy-wrens (early in the breeding season). A characteristic of all Fairy-wrens is that during their breeding season the males have much more colourful plumages than the females. More
The Variegated Fairy-wren (Malurus lamberti) lives in diverse habitats spread across 90% of continental Australia, which is a wider range than that of any other fairy-wren. Fairy-wrens were initially thought to be a member of the old world flycatcher family or warbler family. And like other fairy-wrens, the Variegated Fairy-wren is unrelated to the true wrens. There are four subspecies of the Variegated Fairy-wren recognized which have varying characteristics, colors, and habitats. More
The variegated fairy-wren breeds from July to February or in any month after good rain, when food is plentiful. Its domed nest is made of grass and bark strips bound together with cobwebs. The clutch of 3–4 eggs hatches after about two weeks. The chicks can fly just 10–12 days later. Any threats to its survival? - The Shark Bay variegated fairy-wren is considered vulnerable to extinction in Western Australia. More
The Variegated Fairy-wren, Malurus lamberti is a fairy-wren that lives in diverse habitats spread across most of Australia. The male has chestnut shoulders. The scientific name commemorates the British collector Aylmer Bourke Lambert. More