Tiger Shrike
It derives its name from the tiger-like pattern of its upperparts which are reddish-brown with dark bars. Adult males have white underparts and a grey head with a black mask. Females and young birds are duller and browner and young birds lack the grey and black on the head.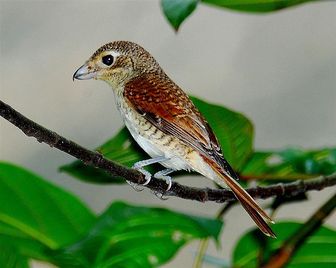 Picture of the Tiger Shrike has been licensed under a Creative Commons
Attribution
.
Author
: NatureAtYourBackyard, Flickr User
The Tiger Shrike is classified as Least Concern. Does not qualify for a more at risk category. Widespread and abundant taxa are included in this category.

Tiger Shrike dismembering a large scarab beetle and another on the bird swallowing a lizard. R. Subaraj reported seeing the headless corpse of a Yellow-rumped Flycatcher (Ficedula zanthopygia), impaled on a thorn of a short tree that he suspected was the work of a Long-tailed Shrike. And in Malaysia he once came across the "larder" of a wintering Brown Shrike consisting of impaled insects along a stretch of barb wire. What we did not have is an image of a vertebrate impaled by a shrike. More
witness to a juvenile Tiger Shrike trying to get at four white-eyes confined safely inside a cage. As the shrike landed on one side of the cage, the captive white-eyes panicked and fluttered to the other side. The shrike then flew to the other side, sending the white-eyes panicking to the opposite side. Even after shrike gave up and perched nearby on a nylon rope, the white-eyes were still in a state of frenzy. I suppose the white-eyes could consider themselves lucky to be inside a cage that day. More
Why only juvenile Tiger Shrikes arrive in Singapore? - Posted by BESG on 30 November 08, Sunday Contributed by KC Tsang KC Tsang sent this comment on 2nd October 2008: "This was the first time that I have seen an adult male Tiger Shrike (Lanius tigrinus) on 28/08/2008, and this was in nearby Panti Forest, Johor (left top). However on the other side of Panti, which is the Kota Tinggi waterfall side, the three were all juveniles. More
The Tiger Shrike or Thick-billed Shrike (Lanius tigrinus) is a small passerine bird which belongs to the genus Lanius in the shrike family, Laniidae. It is found in wooded habitats across eastern Asia. It is a shy, often solitary bird which is less conspicuous than most other shrikes. Like other shrikes it is predatory, feeding on small animals. Its nest is built in a tree and three to six eggs are laid. More
Tiger Shrike (Lanius tigrina) Filmed at Sungei Buloh, Singapore Oct 1994 using Canon EX1 Hi8 & Sigma 400mm lens.all » Tiger Shrike (Lanius tigrina) Filmed at Sungei Buloh, Singapore Oct 1994 using Canon EX1 Hi8 & Sigma 400mm lens.« Download video - iPod/PSPDownload is starting. Save file to your computer. If the download does not start automatically, right-click this link and choose "Save As". How to get videos onto the iPod or PSP. Embed video ▲ ▼ Playlist: Related videos Loading... More
Tiger ShrikesDescription The Tiger Shrike is reddish-brown above with blackish bars. The underparts are white and it has a black mask and grey crown and nape. Females are duller in colour than the males. Young birds lack the grey and black head markings and are similar to the juvenile Brown Shrike. Copyright: Wikipedia. More
The Tiger Shrike was first described in 1822 by the Belgian naturalist Pierre Auguste Joseph Drapiez in the Dictionnaire classique d'histoire naturelle. He placed it in the genus Lanius, a group of about 26 species living in open areas across Eurasia, Africa and North America. The name of the genus means "butcher" in Latin, referring to the birds' habit of impaling and storing prey. More
The Tiger Shrike, Lanius Tigrinus is a small passerine bird which belongs to the shrike family. It breeds in open woodland and farmland with scattered trees in China, Korea, Japan and the Russian Far East. It winters mainly in Malaysia and Indonesia. It has a wide distribution and is not considered threatened although it has declined recently in Japan. It feeds on small animals especially insects. It typically hunts from a perch at the forest edge. The breeding season is from May to July. More